Tom Hooper's The King's Speech is one of the funniest, most compelling and richly fulfilling cinematic experiences of the year, but I understand completely if you don't believe me. Heck, had someone told me that prior to seeing the film, I probably would have fetched myself a cup of tea just for the sake of dramatically spitting it out mid-sip. After all, regal dramas have a habit of being  overly prim and pompous, akin to stately portraiture in that they only tend to capture the most serene and majestic aspects of high society. They have their passionate devotees, but to the average moviegoer, they're nothing more than an exhibition of expensive frocks.
The King's Speech, however, refreshingly paints royalty with relatable candour, recounting the extraordinary true story of how England's King George VI unwillingly inherited the throne and overcame his impeding stammer. Enlivened by a trio of top-tier performances, Hooper's film doesn't observe history with cold detachment, it allows audiences to experience it with tremendous gusto.
Most dramas and documentaries regarding the royal family during the mid-20th century tend to focus on the controversial abdication of Edward VIII, who famously opted to marry American divorcee Wallis Simpson rather than assume the role of King. Screenwriter David Seidler, however, spent decades researching a tale of classic inspiration that largely took place in the background, behind closed doors. This story follows Edward's younger brother Albert (Colin Firth), or Bertie as his family knew him, the Duke of York who would hesitantly be crowned King George VI after his brother's abdication. Bertie's reticence was a result of his obvious stammer, an impediment that made public speaking a nightmarish chore for both him and his audience. With the support of his wife Elizabeth (Helena Bonham Carter), Bertie seeks out professional help from the nation's top physicians, but to no avail. As a last resort, he turns to Lionel Logue (Geoffrey Rush); an eccentric, middle-class Australian speech therapist who believes Bertie's problem is psychological rather than physical. Lionel delivers results, and over many years of therapy, the two form an unlikely friendship, effectively bridging the gap between royalty and the millions of ordinary people that make up their empire.
In essence, The King's Speech functions much like a sports movie: there's the poor-performing team down on morale (a speech-impaired Bertie), the miracle coach that brings them back from the brink (Lionel Logue), and the all-important game that immortalises them as legends (the King's legendary radio address announcing the immanence of WW2). Yes, it's predictable and formulaic, but a well told story is still a well told story, and The King's Speech is about as well told as they come. Seidler writes in a way that Aaron Sorkin of The Social Network couldn't; he successfully balances truth and entertainment, injecting a keen sense of humour without costing the film its humanity or credibility.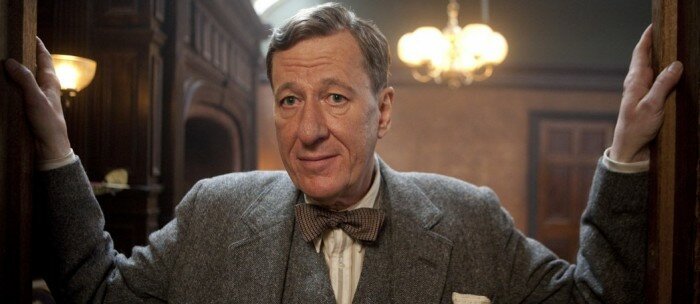 Colin Firth (A Single Man, A Christmas Carol) and Geoffrey Rush (Bran Nue Dae, Pirates of the Caribbean) make for one of the most enjoyable duos contemporary cinema has to offer, deliciously bouncing off each other's strong sense of character. Taking a welcome break from being a fruitcake, Helena Bonham Carter (Alice in Wonderland, Harry Potter) is delightful as Queen Elizabeth, memorably waging into the core bromance despite her comparatively small role. With the likes of Michael Gambon, Derek Jacobi and Guy Pearce in support, the film could have easily come down with a severe case of cameoitis, but Hooper proves that he's an actor's director, evenly spreading the dramatic load so that no single performance outshines another. Every player is equally important in bringing this incredible true story to life.
The film climaxes with nail-biting intensity, yet there are no special effects, no death-defying snippets of action and no great character confrontations. In fact, no one on screen even moves; it's merely the King making a live radio announcement, albeit one that will either make or break the nation's morale going into war. It's good practice for Firth, who come awards season, will no doubt be called upon to make a few more speeches yet.
–
Click here to read our exclusive interview with Tom Hooper, director of  The King's Speech.

Follow the author Anders Wotzke on Twitter.
Related Posts: