I may be going out on a limb here, but if the Coen brothes recent gem A Serious Man was a lot more, well, serious and the religious themes were replaced with homosexual ones, then the result might look something like A Single Man. Look closely and the two films share more than just a similar name; both are set in 1960s America and concern a College Professor trying to find clarity in their lives after they've each been given a royal shake-up. And both are driven by the masterful performances of their respective leads, which in the case of A Single Man is British idol Colin Firth, who has leapt out from Hugh Grant's rom-com shadow to deliver his most earnest and refined performance to date. For good reason, Firth is in the running to be the third actor in five years to win the best actor Oscar for portraying a gay man, the previous winners being Sean Penn in 2008 for his role in Milk and Philip Seymour Hoffman in 2005 for his role in Capote.
But there's a lot more to like about A Single Man than Firth's performance. As the feature debut of fashion designer Tom Ford — who scraped the top off his millions to fund the film himself — there is a sophisticated style to the composition of this film that makes it quite simply beautiful to behold. First off, Ford has delicately retouched Christopher Isherwood's acclaimed novel of the same name to lend it more cinematic tension, framing the protagonist George (Firth) as suicidal rather than just broken-hearted.
George's depression is a result of the sudden death of his partner of 16 years, Jim (Matthew Goode) in a car accident. Unable to overcome his grief, George commits himself to one last miserable day on Earth before he plans to end his own life later that night. But as the day progresses, fleeting moments of clarity and colour manage to seep their way into George's life through various encounters; an enamoured young student Kenny (Skins star Nicholas Hoult) looking to explore his sexuality, a Spanish hustler looking for a one-off fling and George's best friend and ex-lover Charley (Julianne Moore) looking to snuggle up to something that's not a bottle of gin. George, all the while, cannot stray his mind from his beloved Jim, recounting the fondest, and most distressing, memories of their relationship through vivid flashbacks.
Immaculately dressed in tailored suit designed by Arianne Phillips and made in Ford's menswear factory, Firth looks every bit the part as George, making it understandable why everyone he meets wants a piece of him. Yet it's the thoughtfulness of his character, and the delicacies of Firth's layered performance, that makes him so charming to the audience, even with his constant state of misery. In support, Moore and Hoult both showcase their talent in their individual scenes, the former adding a touch of humour by playing a drunk eccentric while the latter charming the screen with his boyish good looks. The focus, however, never strays away from Firth.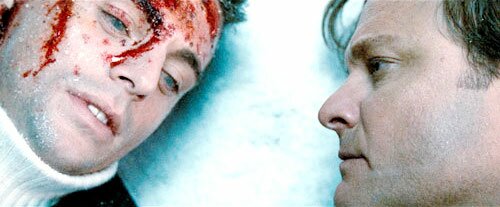 Through the lens of cinematographer Eduard Grau, Ford milks significance out of every moment in George's day, frequently using slow motion tracking shots and lingering extreme close-ups of the smallest of details. The sound is just as immersive, slowing down with the visuals so that each tick, clamour and whoosh rings throughout the cinema.  It's a deeply aural and visual experience — reminiscent of Sam Mendes' brilliant feature debut American Beauty –  that benefits immensely from being seen on the big screen.
Yet the fastidious, highly stylised nature of A Single Man can also be its greatest flaw. The film is so methodically structured that (almost) every plot development can be seen coming well before it does, which coupled with the limitless number of slow motion shots, can make the film feel sluggishly paced. There is also an odd cinematic trick used whenever George senses a moment of joy, where the drab hues swiftly blossom with saturated colour before reverting back again. It's an interesting technique, but due to its blatancy, it's also a distracting one.
For the most part, however, A Single Man is a subtle, sophisticated and heartrending portrait of the love lost between two men, while in wider context – this is certainly not a uniquely gay story – it's a film that explores our fears of growing old and being not just alone, but without happiness.
Thanks to Ford's acute sense of style, such sobering themes have never looked so good.

Follow the author Anders Wotzke on Twitter.
Related Posts: