Atom Egoyan's remake of the 2003 french film Nathalie is an erotically charged arthouse thriller that will make you squirm in your seat and curse yourself for bringing a date.
The morning after David (Liam Neeson: The A-Team) misses his flight home for his surprise birthday party, his wife Catherine (Julianne Moore: A Single Man) discovers a text message on his phone from another woman. Catherine's suspicions are compounded by David's constant flirting with his students, waitresses and any other attractive young women he comes into contact with.
After a chance encounter with stunning young call girl Chloe (Amanda Seyfried: Letters to Juliet) Catherine decides to hire her for the purpose of flirting with David at his favorite cafe, to see if he takes the bait. When Chloe reports back to Catherine on their meeting she reveals that she has overstepped the mark and actually seduced David into a sexual relationship. Fueled by intrigue over the details of her husband's new affair, Catherine continues her arrangement with Chloe. An arrangement which becomes more complicated as time progresses.
The film manages to be quite graphic even though most of the explicit content is described during Chloe's reports to Catherine. At times it even borders on slightly sleazy but due to the high caliber of the cast and resisting the urge to go too far down the Fatal Attraction road, the film retains its dignity.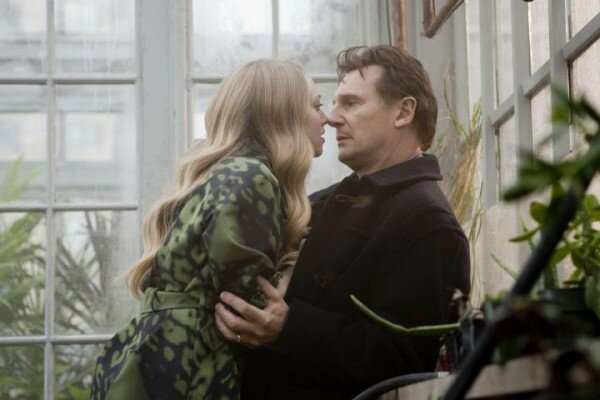 As always, Moore's performance is extremely strong. She portrays Catherine as a real woman dealing with the realities of getting older and the insecurities that come with that. She has a great line in the film where she refers to the fact that every year her husband gets better looking and while she still feels 19, she looks in the mirror and see someone else. This really is the heart of the film, an exploration of how men and women age differently and the stress that can place on marriage.
As Chloe, Seyfried is given her meatiest, most adult role to date. While the part requires her to be sexy and confident it also requires subtlety that many other young actresses may not have been able to pull off.
If any viewers notice that Liam Neeson seems to almost disappear half way through the film, this is due to the unfortunate death of his wife in real life. The script was re-tooled to cut down his screen time, though this doesn't dramatically effect the film.
It might be masquerading as a trashy soft porn thriller, but ultimately Chloe has more on its mind exploring themes of manipulation, mistrust and obsession.
Verdict:
Though probably not a movie you want to see with your Grandmother, Chloe is a darkly erotic thriller than manages to engage from start to finish thanks in most part to a cast at the top of their game.
Related Posts: