Ask someone who dislikes the Harry Potter films to explain themselves and you'll probably hear something along these lines: "It's the exact same formula recycled each time… except that Harry gets a bit hairier."
And they're right, you know. Up until now, each film has been about Harry (Daniel Radcliffe), Ron (Rupert Grint) and Hermione (Emma Watson) returning to Hogwarts School of Witchcraft and Wizardry, uncovering a new mystery in-between their schooling and finishing the year off with a battle against Lord Voldemort and/or his minions. It's formulaic stuff, no question. I just so happen to think the formula tastes great.
This might explain why I have mixed feelings about The Deathly Hallows Part 1, the first film in the franchise to truly break the mould set by its six predecessors. For better and for worse, there's no Hogwarts, no grand banquets, no Quidditch and not nearly enough Alan Rickman. Instead, Harry and his friends hit the open road, and although the darker atmosphere and real-world locales makes this the most mature and humanistic entry to date, it's hard not to miss the warmth and whimsy that has been left behind.
"These are dark times" gravely declares the Minster of Magic (Bill Nighy) in a vein eerily reminiscent of the great Winston Churchill. Indeed, the evil Lord Voldemort (Ralph Fiennes) is almost at full strength, assuming control of the Ministry of Magic as he begins to round up all the half-casts and Muggle ("regular" people) sympathisers in a manner reminiscent of another prominent WW2 figure. Voldemort still hasn't forgotten about boy-wizard Harry Potter, though, realising he can only kill the "chosen one" if he possesses a wand more powerful than his own. Meanwhile, Harry, Ron and Hermione are off searching for the four remaining Horcruxes, fragments of Voldemort's soul that, when destroyed, will hopefully make the Dark Lord vincible again.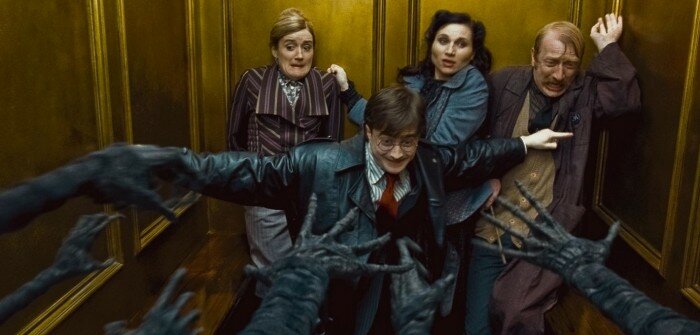 Narratively speaking, this is easily the most complex film of the bunch, drawing on past events and lesser-known characters far more heavily that the series has in the past. It makes for a rewarding experience for loyal fans, but it leaves casual moviegoers and forgetful types (i.e. me) hoping for a clarifying slice of exposition that never comes.  Being Part 1 of 2, it also goes without saying that there is very little closure come the film's finale, which despite being long-overdue within the lengthy 146-minute runtime, arrives with little fanfare. While I can see the logic – both logistically and commercially – in breaking J.K. Rowling's epic final novel into two films, it does dampen the spirits knowing that the best is yet to come.
Mind you, there's still a lot of fun to be had; a gripping infiltration in to Ministry of Magic and a terrifying confrontation with Voldemort's pet-snake Nagini are two such highlights, while an animated retelling of a classic wizarding fairy-tale just goes to show the level of creativity these films foster. The inventive visual effects work their way into the murky hues of Eduardo Serra's cinematography exceptionally well, a testament to director David Yates mindfulness of how CGI can be used to compliment, not dominate, the action and drama. Sure, Yates fumbles early on with one mid-air chase sequence in which the most exciting moments seem to be occurring off-camera, but he consistently delivers the goods thereafter where the action remains grounded. Series screenwriter Steve Kloves has also done well to retain a keen sense of humour despite the gloomier mood, although he would have been wise to trim away some of the fat that bogs the film down during the second act. This is where Harry, Ron and Hermione go camping in the woods to evade Voldemort's grasp, a scenario that worked much better in the book due the greater insight offered into the trio's diminishing psyche. Here, it just diminishes our patience.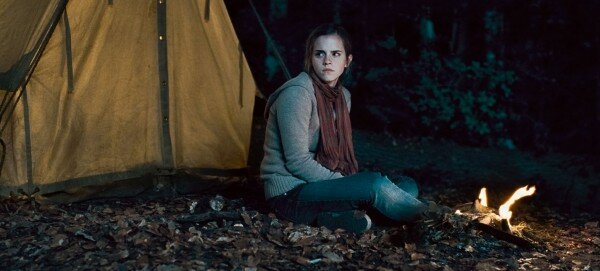 Now some of the wealthiest stars in the biz, the three young leads have noticeably improved in their acting abilities over the years as they've begun to truly embrace their careers as performers. Radcliffe's breathy delivery is less distracting and Watson appears more comfortable in her mannerisms, yet it's Grint who really shines, transcending the role of the bumbling side-kick to reveal how Ron is really a complex, emotional character with jealousy issues. Elsewhere, the deliciously-devilish Ralph Finnes is  finally dealt a few lines of actual dialogue beyond his menacing snarl as Lord Voldemort, while Helena Bonham Carter continues to do crazy like it's nobody's business as the witch Bellatrix. There are so many fantastic English performers to be found in the background here and there – Brendan Gleeson, Richard Griffiths, John Hurt, Rhys Ifans, Jason Isaacs and Bill Nighy just to name a few – but they're all so criminally underutilised in what should really be called "Harry Potter: Road Trip".
It's a small miracle, really, that there has never been a bad Harry Potter film, and while that's not about to change with the arrival of The Deathly Hallows Part 1, this penultimate entry does sit alongside The Chamber of  Secrets and The Order of the Phoenix as installments that don't quite cut the magical mustard.
—
Read Anders' mock screenplay for Harry Potter and the Deathly Hallows here.

Follow the author Anders Wotzke on Twitter.
Related Posts: