Every year, there's always one film that critics go absolutely gaga about, spitting out superlative after superlative like a malfunctioning thesaurus. No Country For Old Men was that movie in 2007, Slumdog Millionaire in 2008 and The Hurt Locker in 2009. This year, it's undeniably David Fincher's The Social Network.
Now if you're the observant sort, you'd have probably noticed that those aforementioned films went on to win Best Picture at the Oscars. Does that mean The Social Network will do the same? Quite possibly, yes. But I honestly hope it doesn't.
I admit there's a lot to like: Fincher's slick direction, Aaron Sorkin's snappy screenplay, Trent Reznor and Atticus Ross' pumping soundtrack and a cast who each bring their absolute A-game. Yet despite all that, The Social Network lacks a strong emotional core that is integral to making a good drama truly great.
Based on the novel "The Accidental Billionaires" by Ben Mezrich, The Social Network charts the rapid rise of the world's youngest billionaire Mark Zuckerberg, co-founder of the preeminent social networking website Facebook. You'd think that would automatically make him the most popular person in the world, yet due to his scathingly misanthropic personality, Zuckerberg might just be the loneliest. Huston, we have irony…
We're told it all began because of a broken heart, or more accurately a bitter one.  After being dumped by his girlfriend Erica (Rooney Mara), an intoxicated Zuckerberg (Jesse Eisenberg; finally free from Michael Cera's shadow) sat down at his computer in a fit of rage, first defaming his ex-girlfriend on his blog before coding together a website that compares the "hotness" of Harvard's female students. Unsurprisingly, the site did little to improve Zuckerberg's popularity with the ladies, but it did manage catch the attention of some influential people, namely twin jocks Cameron and Tyler Winklevoss (both played by Armie Hammer thanks to some ingenious CGI trickery). In need of a skilled web coder, they approached Zuckerberg with a killer idea; a website that allows the students of Harvard to exclusively socialise with each other online.
It was such a good concept that Zuckerberg stole it, secretly collaborating with his best friend Eduardo Saverin (Andrew Garfield) – the open wallet of the operation – to build the website that would eventually become Facebook. At least, that's what the disgruntled Winklevoss' claim, later suing Zuckerberg on the grounds of intellectual theft. The film cuts seamlessly between their lawsuit and the events leading up to it, allowing the audience to arrive at their own conclusion as to whether Zuckerberg is really deserving of his billions.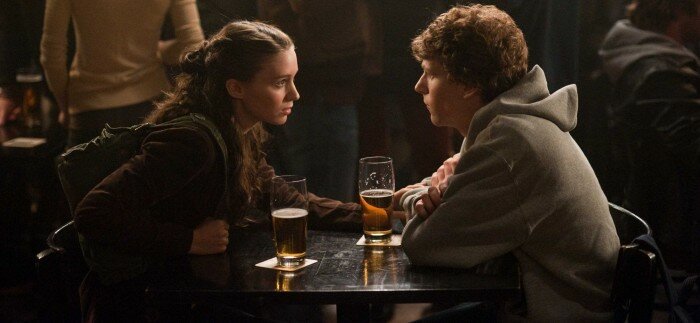 Unlike Fincher's last endeavor The Curious Case of Benjamin Button, don't feel the need to bring tissues along to The Social Network. This is a cold film about incredibly cold people, a digital-era Citizen Kane that deals with the egotism, jealousy and betrayal of free enterprising without ever slowing down to get sentimental.  As a result, none of the characters are particularly likable besides Saverin, who also ends up suing Zuckerberg after being ostracized from the company. But it must be said that a good story doesn't  always need likeable characters, just interesting ones. And between Eisenberg's cutting callousness as Zuckerberg to Justin Timberlake's savvy self-indulgence as Napster creator Sean Parker, fascinating characters are hardly in short supply.
There is a catch, though; for a film based on real events and real people, it doesn't feel particularly real. While Sorkin's writing is as quick-witted as ever, it's a little too sharp for its own good in that it tends to caricaturise rather than characterise the various players, causing a few scenes to unfold like a high-brow sitcom rather an authentic biopic. Mind you, it's all very calculated; The Social Network never strives to be the most truthful or poignant account of the founding of Facebook, just the most entertaining.  And misgivings aside, it's hard to argue with that.

Follow the author Anders Wotzke on Twitter.
Related Posts: