Robert Downey Jr is a very busy man. He has a lot to uphold amongst his Hollywood comeback, first donning the Iron Man suit and now almost certainly entering a second franchise with one of fiction's most beloved characters. It's funny then that the character of Sherlock Holmes hasn't been a favourite in cinema; the bumbling detective now has one of the most known falsely quoted lines in history. Sadly but rightly so, said line fails to actually be mentioned – but the 1800's London setting gives Guy Ritchie the perfect opportunity to do what Guy Ritchie does best – show the gritty side of town with a bit of humour thrown in. More than a bit – this is his most family-friendly film to date. After all, it is a 'blockbuster'.
You can bet he loved having Downey Jr in the boxing ring – a scene with the perfect chance to use a bit of the extreme slo-mo and off-colour tones – and prove the main man can hold his own. Ok, so it also shows a bit of what they did for entertainment and gives every fighter watching a strategy to winning with the perfect sequence of attack. But, this is just one way Ritchie shows Holmes' knack for perfection, whose self-commentary is very intriguing in revealing the smarts of a detective who doesn't present himself as all that flash. On the other hand the Holmes character also has many flaws, and it's these that make him such a lovable guy. You can't hate him for loving American criminal Irene Adler (Rachel McAdams), or sabotaging Dr. John Watson's (Jude Law) impending engagement because it'll break up their crime-fighting team. He just wants everything as he wants it, doing what he does best with a friend by his side.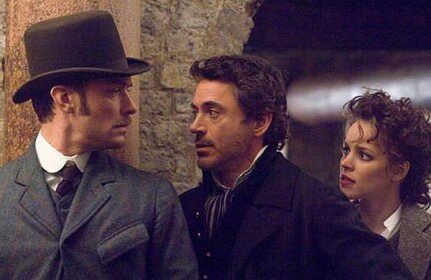 When the notorious enemy Lord Blackwood (Mark Strong) returns from the dead and seeks revenge on Holmes (as well as continuing his murder spree), the detective finds himself in a bit of a pickle; when Lord Blackwood and a secret group are affiliated with authorities like the police, even more so. It's a case of goodie and baddie chasing each other until they reach the climactic battle, and you find yourself with a general action plot. The more intriguing part of the Holmes story is his personal relationships – the bond with Watson, his pining love for Adler and the manipulation she can use on him and how easily he can switch between determined and defeated. Ritchie mixes it up so you're taken on a slightly emotional ride, but always keeps it light with the humour. It's serviced well by the great cast – Law impresses as Watson particularly but Downey Jr steals the show. He still seems to be fascinating even when he mumbles and has a lovable charm that rubs off extremely well. Ritchie's direction keeps you hooked, particularly those slo-mo sequences displaying the thought process of the main man. It manages to maintain an introductory feel but still provide laughs and a good adventure. Sherlock Holmes is all about the camaraderie; there's nothing overly dark to read between the lines here. It's a good example of a (dysfunctional but) working friendship and good faith amidst the criminal world of their time.
Verdict
Sherlock Holmes has something for everybody; an accessible film is exactly what Guy Ritchie's been looking for.
[Rating: 3.5/5]

Follow the author Katina Vangopoulos on Twitter.
Related Posts: