With Harry Potter and the Deathly Hallows: Part 1 opening this week and with "Potter-Mania" about to hit fever pitch again, I thought I would pose the big question…why Harry?
Why has the bespectacled boy-wizard become the biggest cultural phenomenon this side of the microwave oven?
The Potter books have sold in excess of 400 million copies (I didn't even know that many people could read) and the Warner Brothers movie franchise currently has a worldwide take of 5.5 billion dollars, soon to add another billion give or take, making it the most successful film franchise of all time. Yes, even more successful than Star Wars.
I'll admit you'll never catch me reading Prisoner of Azkaban on the train or queuing for a midnight session of the latest installment dressed in my Hogwarts best, but I find it fascinating and also encouraging that in this day and age of disposable entertainment a character or story can still connect so broadly with an audience and endure for more than the usual five minutes.
While much critical acclaim has been heaped on author J.K. Rowling since the release of the Harry Potter and the Philosopher's Stone book all the way back in 1997, few seemed to suggest the book was high art or even necessarily ground breaking. Rather it was heralded as an absolute page-turner, and perhaps that's the greatest acclaim a book could ever get.
However the idea to set the wizarding world and fantastical elements alongside that of the "real world" is clearly a stroke of genius. This grounds the story in a heightened reality which is partly responsible for breaking down the barriers of uncool usually associated with the fantasy genre.
The Potter books have also been highly praised for turning children back to reading books, an especially impressive feat in this "Xbox Generation" but while initially billed as strictly for youngsters, the books also quickly became adult favorites. Turning adults back to reading is also quite the achievement.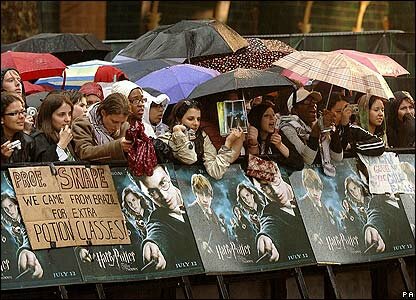 One reason Harry may have more resonance with the audience than usual is the decision in both the books and films to let him grow up as his story unfolds resulting in a deeper emotional connection with the character which may make him somewhat more three dimensional. Boy-wizard or not he also seems to have a lot of the normal problems encountered by the average teenager as he progresses towards adulthood and the greater story told is as much a coming of age tale as it is that of good vs evil. Audiences not only love flawed heroes but ones that have real moral and emotional dilemmas and like Bruce Wayne or Luke Skywalker before him this kid's got to be a little messed up due to his mummy and daddy issues.
I'm sure it also doesn't hurt that Harry Potter was introduced to the world in the internet age, making it much easier for the flames of fandom to be stoked and for enthusiasts to be able to unite in numbers and share their love of the series in all sorts of endearing and embarrassing manner (fan fiction, poetry or tattoos anyone?).
As unlikely as it may have seemed almost ten years ago when the first film broke out as a bona fide blockbuster, its seems as Harry is truly positioned to be a hero for the ages. There's more than a chance that years from now his name will be as enduring and ingrained in popular culture as such other iconic characters like Sherlock Holmes, Superman or even Peter Pan.
Related Posts: