I'm a great admirer of films set predominantly in a single location. Often, they're born out of necessity, not choice, by emerging filmmakers working with a shoestring budget. The reward is that these films tend to benefit from a greater emphasis on the two key ingredients of an exceptional film — characters and story — rather than effect-heavy action sequences. Films such as Alfred Hitchcock's Read Window, Sidney Lumet's 12 Angry Men, Quentin Tarantino's Reservoir Dogs and Duncan Jones' Moon are but a few examples of where less has proven to be more.
Unfortunately, British writer/director J Blakeson's debut feature The Disappearance of Alice Creed is not about to join that list. The film, set almost entirely within an apartment where two kidnappers hold a rich daughter for ransom, falls apart at a screenplay level by forgoing credibility as it introduces one ludicrous plot twist after another. The irony here is that Blakeson, in his attempt to do a lot with a little, ends up doing too much.
The first 20 minutes are electric. Not a word is spoken as the two captors Vic (Eddie Marsan) and Danny (Martin Compston) fastidiously prepare the apartment for their hostage, Alice Creed (Gemma Arterton). They're seen picking up supplies from the hardware store, soundproofing the walls, bolting down the bed and padlocking the doors. The cinematography is crisp, the editing is swift and the score is exhilarating. Our anticipation for what happens next reaches boiling point.
It turns out, however, that kidnappings aren't all that fun.
Screaming at the top of her lungs, Alice is stripped, gagged and bound to the bed before her naked body is photographed next to today's newspaper. Shortly after, she's forced to pee into an improvised bedpan, tears streaming down her face. It's dangerously exploitive and voyeuristic filmmaking. But to what end? What is Blakeson trying to achieve by forcing us to endure such raw torture?
If it were for gritty realism, he'd have been wise to keep things firmly grounded thereon in. Instead, the film repeatedly trips the "bullshit!" alarm every time it complicates the situation by suggesting there's more going on here than meets the eye.  At the risk of spoiling the absurdity, let's just say these three make the twisted relationship between Luke, Leia and Darth Vader seem fairly conventional.
Perhaps Blakeson just wanted us to deeply sympathise with Alice before she takes on a more active role in the story? That seems like the logical answer, but it's hardly what's achieved. Gemma Arterton (Clash of the Titans, Prince of Persia) spends so long doing nothing but squirming and screaming the top of her lungs that we ultimately side with her captors and wish she'd just comply. Once the gag comes off, she becomes even less likable because of how foolishly she reacts to the situation.  As admirable as it is for Arterton to take on such a daring role just as her Hollywood career blossoms, it doesn't stop her from being miscast and, more crucially, miswritten.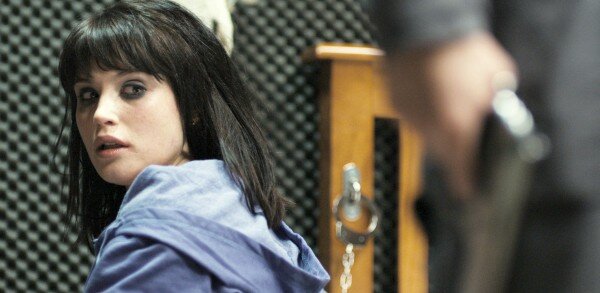 Eddie Marsan (Sherlock Holmes, Me and Orson Welles) and Martin Compston (Red Mist, The Damned United) are far more suited to their roles, although the latter's dynamic performance is somewhat undermined by the improbable developments of his character. Marsan emerges as the most enjoyable of the three, balancing intense aggression with a growing vulnerability in a role that — thank goodness! — isn't merely a vehicle for revelations.
While I struggle to applaud what Blakeson has achieved with The Disappearance of Alice Creed, I can commend what he has attempted. There's a taught, evocative thriller hidden somewhere beneath all the tacky TV-movie twists. If only Blakeson wasn't so desperate to shock his audience, the suspense he establishes early on might not have been so quick to join Miss. Creed in disappearing.

Follow the author Anders Wotzke on Twitter.
Related Posts: