Let's start off with the good news: Iron Man 2 is just as good as Iron Man. But don't celebrate just yet, as I haven't told you the bad news: I never thought much of the original.
Most will be quick to disagree, but I found the first to be a middling superhero film, lightly entertaining for sure, but unforgivably formulaic and extremely anticlimactic. Arriving in the same year as the far more accomplished The Dark Knight, it also didn't take long for Iron Man to feel like an out-dated model. The one thing the film certainly had going for it, however, was Robert Downey Jr. (Natural Born Killers, Sherlock Holmes).  His charming and wry personification of billionaire Tony Stark oozed a unique and entertaining quality the rest of the film simply couldn't match.
Two years later and the blueprints to Iron Man have scarcely changed. If anything, they've just been duplicated and enlarged. Suffering from big-budget sequel syndrome, Iron Man 2 unambitiously follows the same train of thought as Transformers 2 and Spider-Man 3 in believing that only way to improve on the original is to add more of everything. More heroes! More villains! More CGI! And more Robert Downey Jr.!
Surprisingly, the result isn't all bad. The film begins on a strong note and is often funnier than the original, also benefiting from the addition of an entertaining villain in Sam Rockwell — no, not Micky Rourke (more on him later) — that greatly improves on Jeff Bridges' ho-hum baddie from the first film. But like all sequels that take the phrase "bigger is better" to heart, Iron Man 2 is also underdeveloped, disjointed and chaotic.
Warning: mild spoilers ahead!
Having spent the last six months bringing about world peace, Iron Man 2 begins with eccentric weapons inventor Tony Stark (Downey Jr.) – the creator and wearer of the titular suit – lapping up the  rock-star treatment at the launch of Stark Expo, a yearlong technology fair that exists purely to pander the billionaire's sky-high ego. While the world over adores him, the US Senate sees Stark and his suit as a threat, claiming his reckless behavioUr as a national security risk. They request that he hand the Iron Man technology over to the government, something Stark's smarmy competitor in the arms business, Justin Hammer (Sam Rockwell), would very much appreciate in speeding up the development of his own super-suit for the US military. Stark, however, believes his track record in peacemaking speaks for itself, arguing that it'll be years before an Iron Man imitation is developed elsewhere and that there is no need for the Government to have his technology. Little does he realise that in Russia a hardboiled engineer named Ivan Vanko (Mickey Rourke), aka Whiplash, is busy hammering away at his own deadly suit, ready to bring Stark back down from his mantle.
Why does Vanko hold a grudge against Stark? Good question. Despite Mickey Rourke's (The Wrestler, Sin City) best efforts to bring some menacing mystique to Whiplash, he can't overcome the fact that Venko's character is terribly underwritten and is driven by motivations that don't make a lot of sense.  In fact, there's a lot about Iron Man 2 that doesn't quite make sense, partly because the dozen or so sub-plots and sub-characters aren't given enough time to breathe, and partly because director Jon Favreau (Elf, Iron Man) seems more concerned with setting up an Avengers tie-in than he does resolving his own film (no doubt some studio execs are to blame). For those not familiar with the Marvel universe and didn't see the post-credits scene in Iron Man, this Avengers sub-plot comes completely out of nowhere, adding to the confusion and to the list of unnecessary supporting cast members (I'm looking at you, Samuel L. Jackson and Scarlett Johansson).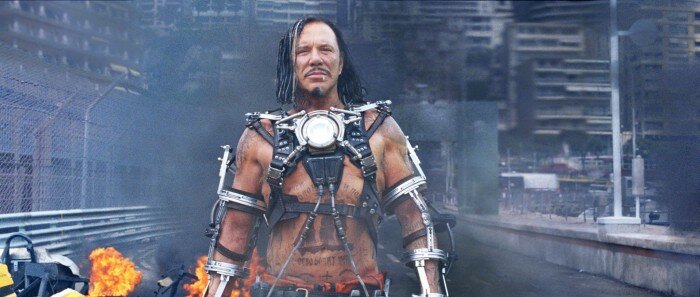 Thankfully though, the film still allocates plenty of time for the main attraction, Tony Stark. Downey Jr. is as witty and charismatic as he's ever been, armed with more snide remarks and slapstick antics than before thanks to screenwriter Justin Theroux, who knows a thing or two about blending action and comedy thanks to his work as co-writer on Tropic Thunder. While Downey Jr. owns the first half of the film, the second half well and truly belongs to Sam Rockwell as the obnoxious oddball Justin Hammer. Channeling his quirky performance as Zaphod Beeblebrox in 2005s The Hitchhikers Guide to the Galaxy, Rockwell gets funnier and funnier as the film progresses, making up entirely for Whiplash's shortcomings as an antagonist. Gwyneth Paltrow (Shallow  Hal, The Royal Tenenbaums) as Stark's secretary Pepper Potter also makes the most of a more substantial role, even if her romance with Downy Jr. is sidelined for most of the film. Last of the main cast, Don Cheadle  (Traitor, Crash) capably replaces Terrance Howard as Stark's  level-headed military friend Lt. James Rhodes, although it would be nice to see Cheadle start being a bit more adventurous in his role selection.
So what about Iron Man himself? Oddly enough, he only makes a handful of appearances, most of which are to just to showcase the suit. That's not to say the film is short on thrills — the ending is certainly more climactic and action packed than the original, if a little too CGI heavy — just that it tends function better as a character-driven comedy than it does an all-out action blockbuster. It's hard to say whether that's a good thing or not, although when you consider it cost $200 million to produce,  you can't help but feel a tad underwhelmed.

Follow the author Anders Wotzke on Twitter.
Related Posts: