Matthew McConaughey is back playing a defence attorney, fifteen years after the John Grisham adaptation A Time to Kill. But his earnest, cleancut persona in that film has been ditched in favour of a charismatic but morally dubious sleazeball in The Lincoln Lawyer. As the numberplate on his gargantuan car/mobile office (the "Lincoln" of the title) testifies, any client who signs on with him is all but guaranteed a final verdict of "n0t guilty".
After smoothing out a few misunderstandings with a little finesse and a big smirk, Mick Haller (McConaughey) lands himself one of those apparently open-and-shut cases that legal thrillers often use as their launching pad. Blonde-haired, blue-eyed rich boy Louis Roulet (Ryan Phillippe; MacGruber) is accused of savagely beating a woman he met in a bar, but he insists he's been framed. Together with his investigator Frank (a long-haired and typically solid William H. Macy; Shorts), Mick delves into the evidence and discovers similarities with an earlier assault and murder – for which one of his previous clients was convicted. A cat and mouse game ensues between the lawyer and the real killer (and if you've seen the trailer, you'll already know who it is), as Mick keeps running into the impenetrable wall of attorney-client privilege.
Meanwhile, between copious amounts of whiskey and quickly overcome hangovers, he shuttles his little-seen daughter back and forth with his level-headed ex-wife Maggie (Marisa Tomei; The Wrestler), also a lawyer. We don't get much background on their relationship, although it's easy to fill in the blanks, and the angst of their failed marriage (gathering steam for round two, naturally) is unusually restrained. In fact, the presence of the family mainly serves to show that the sly and ruthless Mick does have a heart – although it's his liver that keeps taking a beating.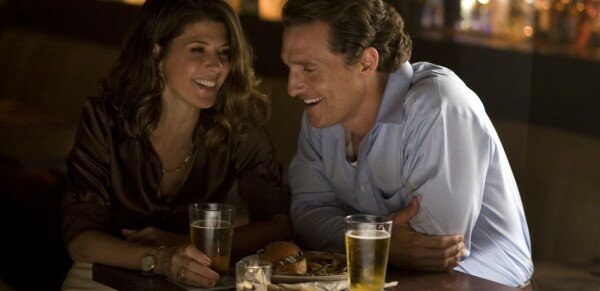 In The Verdict (1982), Paul Newman played an alcoholic, ambulance-chasing lawyer trying to earn some self-respect with a desperate shot at redemption. But Lincoln is neither grim nor does it aim for such lofty heights, and unlike Newman's crusty crusader, Mick is young, hip and (the film constantly tries to convince us) streetwise. McConaughey plays the role of the charming hustler with relish; rarely offscreen, he carries the film through all its twists, turns and tumbles. His costar Phillippe, however, seems to be channelling Keanu Reeves in a characteristically wooden performance, although the role lacks credibility – Roulet is pretty much just a cardboard villain.
This is the second adaptation of a novel by prolific crime fiction writer Michael Connelly, after the rather bland and routine Blood Work, starring Clint Eastwood. At times, Lincoln plays like a TV legal drama, and it suffers from a range of vague and underwritten minor characters – perhaps another case of trying to shoehorn a convoluted bestseller into a two-hour narrative with mixed results. This might also account for the way it piles on the endings and neglects to thread all the characters together effectively. The overenthusiastic zoom lens and hyperactive handheld camera are also distracting. But for all these relatively minor complaints, The Lincoln Lawyer delivers on its promise and emerges a cool, slick and entertaining courtroom drama with enough punch to hold its own in an overcrowded genre. Just don't analyse it too much – make sure your popcorn lasts until the final reel and you should be satisfied.
Related Posts: