- This review was originally posted Dec 20, 2008.
The lengths people go to entertain is astonishing. I sat in total bemusement as aging wrestler Randy 'The Ram' Robinson  is willingly beaten to a pulp a top of barb wire and shattered glass, all in the name of entertainment. You just have to shake your head and chuckle at the sheer absurdity of it all. But Darren Aronofsky's (Requiem for a Dream) latest film The Wrester is no joke; it's an amazingly heartfelt story of a man's realisation that the sport he gave up his life for wasn't simply going to give it back once he left the ring. It also happens to be one of the best films of the year, mostly due to one man – Mickey Rourke.
Twenty years after being the title holder of the professional wrestling circuit, Randy "The Ram" Robinson (Rourke) now lives in a trailer he can't afford, works minimum wage at a supermarket, has a daughter he barely knows and spends his nights getting lap dances at a local strip joint. But on the weekends, he revisits his glory days and becomes "The Ram" in the independent wrestling circuit. As the vigorous exercise and brutal bouts begin to take their toll on the aging man, it almost costs him his life, causing him to realise that the things he neglected in his life in order to become a professional wrestler are now more important than ever.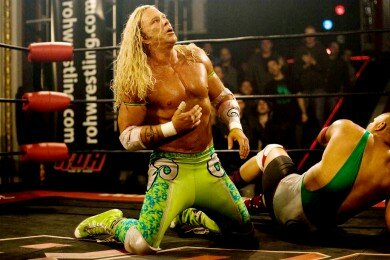 Mickey Rourke was built to play this role: physically, mentally and emotionally.  Having been mostly absent from Hollywood for nearly 15 years, It's almost as if Rourke has been waiting the better of a decade for this role to land on his lap. As Randy attempts to reclaim his former glory in the ring, it's hard not to draw parallels between his and Rourke's own career; the 80′s star having long been considered a Hollywood has-been.  Darren Aronofsky's distinct documentary style of direction actually provokes these parallels to be drawn, as a unsteady hand-held camera follows Randy like a shadow wherever he goes, suggesting that the prime of his career is well and truly behind him. This raw style of filmmaking also adds credibility to Randy's story,  further propelled by a minimalist soundtrack that predominantly consists of Rourke's strenuous, heavy breathing.
When Rourke does turn towards the camera, which presses itself right up against his scared and worn face, we see just how much the years of wrestling have taken its toll. Along with his ripped body and highlighted hair, these deep scars serve to remind us that wrestling isn't a mere stage show, it's a complete lifestyle choice. Constant training, weightlifting, exercise, body tanning, hair care and medical treatment: it's utterly draining to even observe such a routine, let alone imagine what it would be like to live by.
It must have been just as draining for 52 year old Micky Rourke as well. Performing all his own stunts and reportedly doing the entire production without being paid, Rourke certainly must have pushed himself to his limits, especially during the brutal fight sequences. The bloodshed of each bout is captured up-close and personal with minimal edits; one particular scene involving a staple gun easily being the most visually nauseating I've seen all year. Yet the marring of passion and aggression that embodies 'The Ram' in the ring is equally matched by the humanity that Rourke skilfully conveys when he's Randy the lonesome father seeking redemption.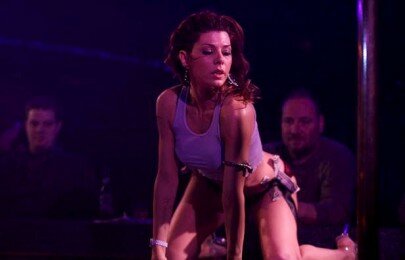 Randy's sensitive side is predominantly revealed through his relationship with a stripper named Cassidy (Marisa Tomei), seemingly the only woman in his life. Tomei manages to bring a certain level of sincerity and  dignity to her character, opposing the stereotypical connotations such a career might provoke. Like Randy, she is also becoming too old to be a performer; "you're old enough to be my mother", one patron scathingly says during a lap dance. It's for this reason that the two find themselves reminiscing about the glory days, coincidently the 1980′s, a time when Rourke too was the King of Hollywood. It's safe to say the King is back.
Conclusion:
It's brutal yet sincere, funny yet solemn – Darren Aronofsky has made a remarkable film that expertly depicts the reality of a sport it both honours and berates. At the center of its success is Mickey Rourke, giving not only a career defining performance, but also one of the year's best. I predict an Oscar with his name on it.

Follow the author Anders Wotzke on Twitter.
Related Posts: