Country towns are always a haven for gossip and scandal because of their often close-knit communities. It rises especially when someone who's left one for the 'big city' returns a changed person. But that's never set in stone to the one scenario, and the premise for Stephen Frears' sex comedy Tamara Drewe suggests we evolve professionally and personally from a location change, but while you can leave home, home can never leave you.
Writer's block is unavoidable for most in the profession; just look at JK Rowling (re: Harry Potter and the Order of the Phoenix). So what better excuse to set up in the English countryside to rediscover the creative spark? That's what writers do at the home/retreat of Beth (Tamsin Greig; Black Books) and Nicholas Hardiment (Roger Allam; The Queen) in Ewedown. The couple play neighbours to the house of Tamara Drewe (Gemma Arterton; Clash of the Titans), who reluctantly returns from her columnist job in London to sell it off after her mother's death. She's a much different person to how she left the town ten years prior and proceeds to bring scandal and intrigue through romances and general nature to sleepy Ewedown's residents, both old and young. You're taken through each season of the year to show time passing, with Tamara's efforts to restore the house taking longer than expected and love interests including drummer Ben Sergeant (Dominic Cooper; Mamma Mia!) entering the picture. Add to that two meddling fifteen-year-olds who make it their mission to make Tamara's life a mess for their own benefit and you've got yourself a busy film.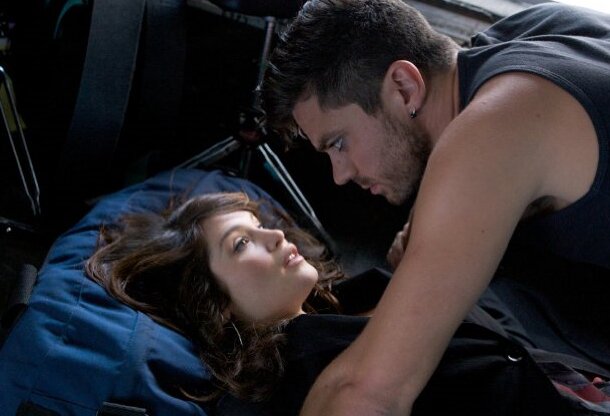 Based on the graphic novel from resident London Guardian cartoonist Posy Simmonds, Tamara Drewe comes to you on film as a light comedy with few dramatic themes. Tamara's promiscuity is deemed distasteful by most yet no-one confronts her about it; Nicholas' revealed promiscuity on the other hand is at the forefront of Beth's problems, creating drama to all those involved with the retreat. Ewedown's a town of heartbreakers and mischief-makers and the 'dump', as Tamara calls it, couldn't be thriving with more excitement.
The film has charm, and plenty of it, with engaging characters and a beautiful backdrop in the English countryside. But for all this, it feels short on genuine caring. Perhaps it's the overwhelming predictability or that some plot twists (note: characters' decisions) come across as a bit far-fetched – even for a British comedy. It seems too many questions are left unanswered and, in turn, it creates unfamiliarity with many of the characters. That's not to say the cast isn't inviting; director Stephen Frears (The Queen) has assembled a strong ensemble that gives the lightly-plotted story extra zest. Arterton has already done the sexpot thing in the most recent Bond film Quantum of Solace and with those pouty lips of hers she holds her own in what is the title role, but hardly the leading one. Cooper as Ben and Greig as Beth impress, but the real gems are newcomers Jessica Barden and Charlotte Christie who cause havoc around Ewedown as bored teens Jody and Casey. Tamara Drewe's general lack of cheesiness manages to make it a fun summer film that doesn't take itself too seriously.

Follow the author Katina Vangopoulos on Twitter.
Related Posts: