The legend that surrounds the MI6 spy continues to gather momentum after 2006's Casino Royale-inspired resurgence. A film that gains all kinds of Internet speculation from the announcement of the title seems interesting in itself, but when it concerns one suave man and his martini it's another story. James Bond is nothing short of a cinematic marvel. Whether you grew up watching the Connerys and Moores or are recent converts with Daniel Craig's first foray, it's hard to be oblivious to Bond hype (A Bond virgin? You should be ashamed of yourself.). After all, he's been shaking his martini on our screens for the past 40-odd years. With the most talked-about title of the year, the hope for Quantum of Solace's success is high – as are expectations.

As the 22nd (official) movie in the series, Quantum of Solace's 2008 release celebrates the 100th anniversary of creator Ian Fleming's birth. The film derives its name from one of Fleming's early Bond short stories but bears no resemblance to the story itself other than its meaning. The Quantum of Solace is 'a precise figure defining the comfort/humanity/fellow feeling required between any pair of people for love to survive. If the Quantum of Solace is 0, then love is dead.' In the aftermath of Vesper Lynd's betrayal to Bond in Casino Royale, then it certainly seems the right choice for a name. Quantum of Solace is set mere hours after Royale's end, as Bond (Daniel Craig) learns from Mr. White (Jesper Christensen) there is an organisation known as 'Quantum' involving Dominic Greene (Mathieu Amalric), who with General Medrano (Joaquín Cosio) wants to dictate Bolivia through their untapped water supply.
Quantum of Solace is the first Bond film to not derive from a Fleming story. To the Broccoli's credit, why would you stop just when you've started a good run with Daniel Craig after his defying turn in Casino Royale? Viewers must understand we are entering a different era with Bond films now because of dwindling original material. They must understand that the film is ultimately a sequel. It is phased in quite well in that sense as we are reminded of Vesper Lynd's death and over the course of the film how that affects the main man. Director Marc Forster, whose diverse range of films include The Kite Runner and Monster's Ball, leads us into the action straight away with a breathtaking car chase, and follows it through with old-fashioned fistfights, continuing to buck Bond's traditional gadgets. Roberto Schaefer's cinematography is stunning, with locations of Italy, Haiti and the Bahamas providing a more glamorous edge to the gritty nature of Bond's work. However, what fails to deliver in some part is the story itself. Established writer Paul Haggis returns after Casino Royale with Neal Purvis and Robert Wade, but while the one-liners hit the target, some of the story is confusing. Although a level of concentration is necessary with any espionage film, the Bond franchise is something that has grown to appeal to the masses and must be written so. While the plot concerns environmental issues very relevant in the present day, the way it's been handled is too sporadic – action sequences are thrown in between with characters whose stories aren't important or aren't explored more. Failing to understand a scene's relevance suggests there's something missing, but here it's something you just can't put your finger on. It's almost as if there is too much action and not enough story – but can you say that about Bond in a bad way?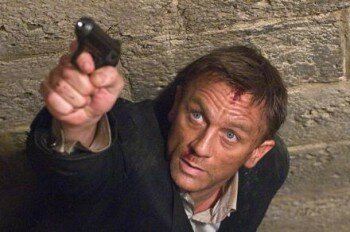 What Quantum of Solace is really good for is showing us how Lynd's death is affecting Bond. Daniel Craig looks so comfortable in his second outing, and he should. Versatility comes effortlessly to him as he gets everything right. He makes 007 merciless – with almost no sense of humanity, he doesn't care who he kills or how they die. We thought he was raw in Casino Royale as he fell in love, but in Quantum of Solace Bond is taken to a whole new level. It really is something that will stay with you, seeing the famous 007 shaken – underneath the debonair is, quite simply, a broken man. Judi Dench as Agent M, now in her sixth Bond, is effortless as the 'mother', always looking out for him, but her patience is tested here as Bond treats any sense of rule with disregard. The famous 'Bond girls' are downplayed compared to their counterparts – Gemma Arterton is thankfully short-lived as her Strawberry Fields aren't so green (how can one resist making a joke as they continue the traditional playful names?), but Olga Kurylenko is a treat as Camille. She shows us a feisty and determined girl who is after what Bond thinks he wants most (revenge), and serves up an unlikely friendship throughout the ordeal as they face their demons together.
Conclusion:
Quantum of Solace has its pros and cons like any other film. Because of its background, it's much more subject to critical scrutiny. It appears to be a film that should be watched repeatedly to understand the finer details (and may sit with you better over time), but if it's action you want, action you'll get. Bond's dark descent will make you thankful for Craig's addition to the 007 franchise and leave you wanting more. As the shortest Bond film, there may be a practical part to that too…

Follow the author Katina Vangopoulos on Twitter.
Related Posts: