Julia Roberts' return to a major role definitely provides a challenge on the back of Elizabeth Gilbert's enormous success with her memoir (on which this film is adapted). You'd be living under a rock if you hadn't at least heard of it – but whether you've read it or not doesn't detract from the harsh truth that while travelling can easily centre on finding yourself, it's hardly an easy road.
This film will appeal to the dreamers within moviegoers – a smooth look at three of the world's most fascinating locations. Liz (Roberts) decides to travel for a year following the end of her marriage to Stephen (Billy Crudup) and short relationship with David (James Franco). Her travels through Italy and India for four months and Bali in Indonesia for two cover the eat, pray and love of the title as she tries to discover herself and let go of things from her past. Sound cheesy? It is a bit, but you can't deny it sounds like a great way to spend a year. That's what will appeal to some when watching Eat Pray Love: the dream of seeing the world just as she does… breathtaking locations, the warmth of the people she meets and discovering things about yourself you never knew. What they don't tell you are the little realities that explain how it all came together. Where on earth did she get all that money to sustain her travels? She was reportedly paid by her publishers in advance before going on her way… and not once in the film do we see Liz really struggle. She might settle for dodgy places to stay but it's dealt with lightly and that's the worst of it.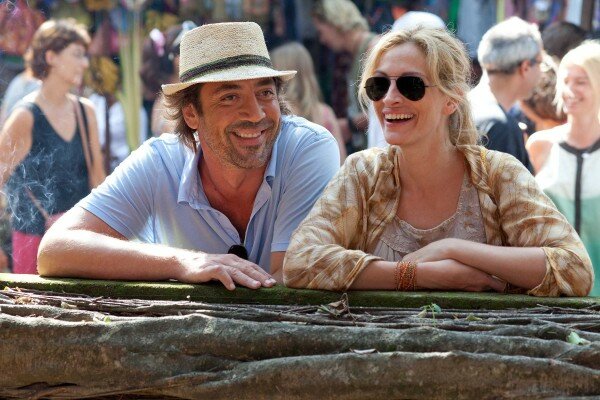 For all the issues Liz has in her life; how disillusioned she is (and looks), she doesn't come across as a complex person on screen. The return of Julia Roberts to centre stage shouldn't surprise you – she goes through the motions of sadness and wistful glances, anger and extreme happiness. Hearing that infectious laugh of hers does undeniably warm you up to her just a little bit, but at the same time reminds you of what you're watching. The use of un-Orthodox leading men in Crudup, Franco and Javier Bardem places it differently to a typical Roberts drama though, and it works; all three are charming in their very different ways as the men in Liz's life.
While the story drags the most through the middle, the film itself is visually pleasing with some stunning backdrops. As a story that drifts from one thing to another it's an interesting choice for director Ryan Murphy, whose creations Nip/Tuck and Glee are so very different – to each other and this, a big task. He'd refuse to believe it's out of his league, though it might be.
Eat Pray Love doesn't hold its ground as you lose interest in Liz and her decisions, instead becoming more interested in relating it to yourself and how you'd handle her situations. To be fair, the pre-requisites of the genre (a clichéd ending – not added for filmic purposes – and its share of sappiness for the blubberers out there) are in a way reassuring elements, believing that you can go out and realistically have a similar adventure is not so much. The lack of overall character in this film makes for a journey that's merely good and not great as many fans of the book hoped it would be.
Verdict
Eat Pray Love is inspired but lacking energy that is now so well known from Murphy's work.

Follow the author Katina Vangopoulos on Twitter.
Related Posts: