It's been over seven years between drinks for Peter Weir, the seminal Australian director who was last seen the helm of 2003's Master and Commander: The Far Side of the World, the enthralling maritime epic that earned ten Oscar nominations and walked away with two. For his latest epic The Way Back, Weir has left behind the high seas to take on virtually every other terrain imaginable, recounting the true(ish) story of how a group of prisoners from a Siberian gulag managed to escape by walking over 4,000 miles to India during the Second World War.
While promoting The Way Back in Australia, I was fortunate enough to talk to Weir over the phone. During our 15-minute conversation, the director revealed his method of choosing the material he wants to direct next, the debate over whether the story is fact or fiction and the pressures that come from shooting entirely on location where Mother Nature is in control.
Listen to our exclusive interview below!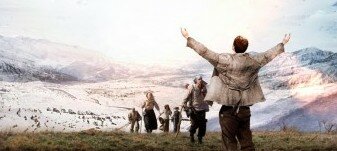 Question/Discussion timestamps:
00:00 How do you go about selecting your next script?
01:49 How were you first exposed to the story of The Way Back?
02:47 Were you granted more creative freedom after learning it mightn't be a factual account?
04:01 Where did you embellish on the story the most?
05:30 What convinced you that Colin Farrell was the right man for the role of a Russian convict?
06:44 What's the key to getting a great performance from your actors?
07:18 On how the actors had no choice but to immerse themselves in their roles.
08:09 What unexpected obstacles came from location shooting in extreme climates?
09:43 Where did you find accommodation whilst filming in such remote locations?
10:18 Why do you favour historical stories over modern ones?
11:33 During your career, what has changed for the better and for the worse in the film industry?
12:30 On how the film's post production was done in Australia.
13:20 On the visual effects.
13:43 Would you make a purebred Australian film again?
14:01 If not a filmmaker, what career path do you think you would have taken?
14:18 On the film's score and sound design.

Follow the author Anders Wotzke on Twitter.
Related Posts: