Compiled from thousands of hours of video footage submitted by amateurs from all around the globe, the Ridley Scott produced, Kevin Macdonald directed Life in a Day is a stunning tableau of all the struggles, tragedies and triumphs that occur in the span of a single ordinary day – July 24th, 2010. Neither narrative nor documentary, the film, simultaneously beautiful and ugly, funny and heartbreaking, epic and intimate, simple and extraordinary, breaks all the established rules of filmmaking and storytelling, yet comes together as something that is unique, inspirational and occasionally profound.
The film begins, like any day, at dawn. We watch and marvel at the similarities and differences in the morning rituals of people of many different cultures, situations and beliefs, all of whom are rising to face everything that this unknown day will bring. One man buys his coffee from a barista on the streets of New York; another brews it himself in a tin can on a fire whilst overlooking the snow-capped mountains of Nepal. As the film goes on, we weave in and out of hundreds of experiences, big and small. Occasionally characters recur; a Korean man in the ninth year of his around the world cycling tour; a British student returning home for his annual visit with his father. Mostly however, this film is a stream of consciousness, an ever changing tapestry of images, colours and sounds.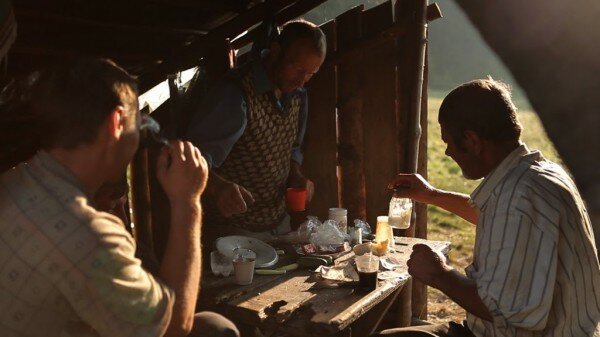 In spite of its montage-like nature, what is most astounding about Life in a Day is how personal it feels. For me, there were two small scenes that struck a deeply personal chord. One was of a family dealing with the devastating effects of cancer; the other, of a young couple, very much in love, reaching out over web-chat from different sides of the world. Because of how they related to my own life, these clips were emotionally overwhelming. And yet to other viewers, they might mean practically nothing. Like in real life, there are parts of Life in a Day that are positively mundane. But with thousands of faces and stories to behold, there will be something in this film that will leave an impression on every viewer who sees it.
One of the most significant events of July 24th was a stampede during an electronic music festival in Germany. Twenty-one people were crushed to death, whilst all around them the music continued to play. What a perfect metaphor. Tragedy occurs every second, and the chaos and revelry of life goes on without anyone taking any notice. The men and women behind Life in a Day simply do not wish to go unnoticed. And with their desire, they have created a piece of art – flawed, yes – but truly without limits. Life in a Day is a human collage; a plotless story that reveals mankind's capacity for love, kindness, generosity, faith and humour, as well as cruelty, selfishness and intolerance. It probes our deepest hopes and lays bare our darkest fears. It is a movie for anyone who has ever wondered what life is like for somebody else. And it is something really special.
—
Tom Clift is a web-based film journalist from Melbourne, Australia. Visit his website here: http://reviewsbytom.blogspot.com.
You can read all of Tom Clift's coverage of MIFF 2011 here.


Follow the author Tom Clift on Twitter.
Related Posts: