Before he became the writer/director of the edgy Australian teenage drama Wasted on the Young, Ben C. Lucas spent many years as a videogame designer, forgoing his passion for filmmaking under the assumption that it wasn't a practical career to pursue. And he'd be right; few filmmakers are lucky enough to make a living out of what they do, particularly here in Australia. Yet in his mid-20s, Lucas came to realise his true calling was behind the camera, and now at 33, he is finally living his dream, touring the country to promote his debut film for its national March 3rd release.
Often compared to Gus Van Sant's Elephant and TV's Gossip Girl, Wasted on the Young depicts the damaging social hierarchy of a private Australian High School. Darren (Oliver Ackland), an introverted computer geek, sits at the bottom of the food chain, while his step-brother Zack (Alex Russell), a popular party boy, reigns on top. The two make an effort to avoid each other until the gorgeous Xandrie (Adelaide Clemens) takes an interest in Darren, causing a jealous Zack – who always gets what he wants – to forcibly intervene. The situation intensifies when Xandrie is drugged and assaulted at one of Zack's many parties, causing Darren to emerge from his shell and enact his revenge. You can read Dan Gear's review of the film here.
I was given the opportunity to talk with Lucas over the phone from Sydney, who talked about his own High School experience, the reason behind the film's hyper-realistic style and the positive effect the film has already had on his burgeoning career. You can listen to our exclusive interview after the jump.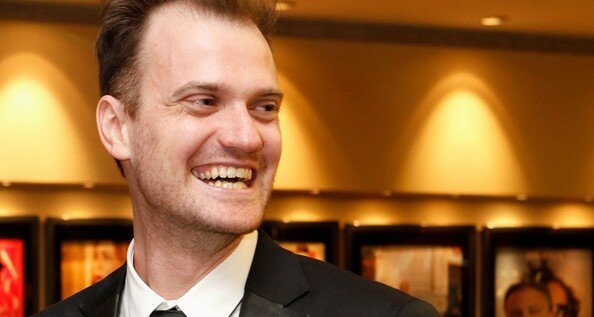 Question/Discussion timestamps:
00:00 – How did you become a filmmaker?
01:34 – Is the story based on any personal experiences?
02:16 – What generation do you belong to?
02:44 – How did you get into the headspace of the Facebook generation?
03:36 – What did the young cast brought to the table?
04:38 – What's the motivation behind the film's slick, hyper-realistic visual style?
05:29 – Why are there no parents, teachers or adults in the film?
06:17 – How did you convince schools to film film such a damning portrait of Private Schooling on their property?
07:06 – On the digital effects used during the fantasy sequences.
07:59 – On the implication that video games lead to youth violence.
08:59 – What convinced you that Oliver Ackland was your Darren?
09:41 – On Adelaide Clemens' uncanny resemblance to Michelle Williams.
10:21 – What's something you've learnt from this experience you wish you knew beforehand?
11:41 – Who are your influences?
12:38 – What do you have lined up next?
13:30 – On what the film has done for his career already.
14:00 – Where do you see yourself in 10 years?
14:27 – Who in the industry would you most like to work with?

Follow the author Anders Wotzke on Twitter.
Related Posts: