We've seen plenty of films about high school shootings (most notoriously Gus Van Sant's Elephant) and young students sacrificed by their own ruthless chain of command, from Lord of the Flies [1963] to Bully [2001]. In Wasted on the Young, the debut feature from Australian writer/director Ben C. Lucas, we get a modern take on this controversial subject — even the most ruthless of bullies is computer-literate these days.
Meet the leader of the pack: Zack (newcomer Alex Russell) may only be 17 years old, but already he has it all, including the unspoken allegiance of just about every student in the school. His stepbrother Darren (Oliver Ackland; The Proposition), however, whistles his own tune. They may live in the same house and be on the swim team together, but Darren is not part of Zack's inner circle. Nor does he want to be. Friction between them escalates over Xandrie, played by Michelle Williams lookalike Adelaide Clemens (X-men Origins: Wolverine). While the sensitive Darren awkwardly tries to connect with her, she is just a sexual target for the predatory Zack. The situation boils over at one of Zach's house parties — cue pounding techno and flashing lights — when Xandrie is drugged, raped and left for dead.
If Wasted on the Young is anything to go by, our high schools are overrun with murderous cretins and Machiavellian monsters. Teen angst shifts gears into adolescent rage, in a kind of Australian Rules of Attraction for the Facebook generation. The Bret Easton Ellis blueprint of young people who systematically annihilate themselves with drink, drugs, sex, violence and mind-numbing music is compounded by the fact that these kids are neither uneducated nor underprivileged. We cannot make excuses for their behaviour with regard to any lack of opportunities or financial strife. No one is struggling to make ends meet in this movie.
So what are the parents doing while their kids are beating, drugging and fucking each other with reckless abandon? Well, they simply aren't there. I mean, they do exist — after all, kids don't just hatch from pods, although that might have made sense with some of these vicious thugs — but we never see any of them. Teachers either. It may stretch credibility too far for some viewers, but the shocking actions of these savage teens, as well as their utter lack of accountability, are amplified by the creation of a world where the adults are forever offscreen. We don't feel they have any influence on what happens. In fact, the film desperately tries to convey the notion that parents and teachers today have absolutely no idea what their kids are up to.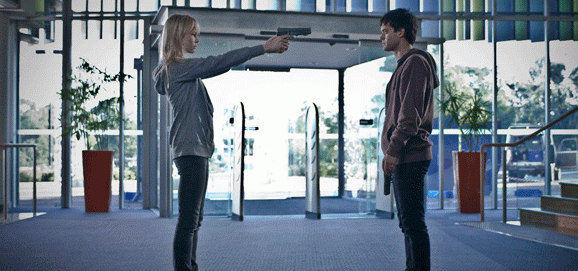 The weapon of choice in this claustrophobic setting, where the kids have no one to turn to and each is doomed to play out their role in the social hierarchy, cuts far deeper than blade or bullet: the internet, and other forms of electronic communication. They constantly target each other on Facebook, and text messages instantly relay the latest ugly turn of events – whether fact or fabrication. But this freedom does not translate into involvement or intervention during an actual crisis. Depending on whether you are seduced or repelled by this highly stylized film, during the scenes where students are threatened or attacked, you'll find the lack of action on the part of the onlookers either chilling or ludicrous.
Wasted on the Young is a very ambitious film, but not always a coherent one; between jarring fantasy sequences, flashbacks to innocent beginnings, and the relentless techno music, it's somewhat disorienting at times. But if you don't have any problems figuring out what's going on, there are perverse pleasures to be had — the lunatics have well and truly taken over the asylum.
–
Listen to our exclusive interview with Wasted on the Young director Ben C. Lucas. Click play below.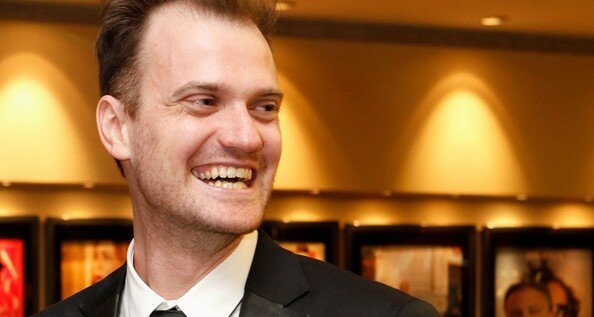 Related Posts: