In the closing credit scroll of writer/director Kevin Smith's Red State, the cast is listed under three subheadings: sex, religion and politics. It's not a very subtle way of outlining the themes of the film, but then again, very little is subtle about this ambitious and visceral stylistic departure from a writer/director who, up until now, has confined himself to the realm of raunchy adult comedies in the vein of Clerks and Zack and Miri Make a Porno. That's not to say there aren't laughs to be had in Red State, rather that they only exist to make the unflinching violence and twisted social commentary all the more dark and to the point. With all the finesse of a government raid gone wrong, Smith smashes through convention and political correctness to deliver an unpredictable, unpolished, deeply cynical and absolutely merciless lampoon of America's deepest and darkest social taboos.
On practically every level, Red State is something of a mess. Tonally, the film throws itself around with reckless abandon, never willing to settle in on a genre or even a really a protagonist. Smith's recognizably vulgar dialogue in the first act sets you up for a kind of twisted sex comedy, as three dislikeable high-school losers answer an online ad for a middle-aged woman interested in group sex. Things quickly go awry for the young lads when it is revealed that they have fallen victim to a trap set by members of the fundamentalist Five Points Christian Church, led by the terrifying Pastor Abin Cooper (Michael Parks).
Before Cooper's congregation can carry out their plays to execute the boys for their deviant ways, Special Agent Joseph Keenan (John Goodman) of the Bureau of Alcohol, Tobacco and Firearms (ATF) is tipped off to the situation and lays siege to the church's compound. Disastrous attempts at negotiations rapidly escalates into a no-holds-barred, farcically mismanaged firefight, as Red State evolves again, this time into a brutal satire of the US government, who Smith paints  as a disturbing combination of callous and incompetent. This third act is littered with moments of deadpan humour that strike intentionally jarring contrast with the increasingly frequent and ever-more shocking violence, as Smith ruthlessly murders characters — both innocent and guilty — before concluding with a blackly comedic epilogue that skewers post 9/11 federal law enforcement policy with profane frankness and precision.

While previous Kevin Smith films have been typified by their utter lack of visual flair, with Red State the director adopts a visceral style of camerawork that matches his nasty violence and subject matter. Growing increasingly frenetic as the narrative bedlam spirals rapidly out of control, by the time the feds and the Five-Pointer's start trading ammunition, the camera shakes and spins with roller-coaster intensity. The sound design is similarly potent – the soundtrack thumps like a rapidly beating heart, as bullets whiz past and impact their targets with a sickening, resounding finality.
The raw quality of the filmmaking also carries over into the performances. Michael Angarano, Kyle Gallner and Nicholas Braun as the three unfortunate teens, as well young actress Kerre Bishé as one of the younger, less enthusiastic members of Paster Cooper's misguided army of God all bring a down and dirty terror to their roles, like lambs desperate to avoid the slaughter. John Goodman acquits himself very well – and certainly looks the part – as the world wearing, "low on the totem pole" agent Keenan, while comedian Kevin Pollack is excellent in his all-too-brief scene as Keenan's second in command.
The star of the show — the chillingly articulate Abin Cooper — is played with fascinating lunacy by Michael Parks, who audiences might best recognize from his small parts in recent Quentin Tarantino movies. The ten-minute hate-filled sermon that introduces his character (reportedly cut down from twenty minutes) is as mesmerizing delivered as its content is vile, calling to mind the rea-life rhetoric of notable anti-gay preacher Fred Phelps and the Westboro Baptist Church (whose beliefs are known to have influenced the film, though Smith is sure to make an explicit, libel-avoiding disclaimer).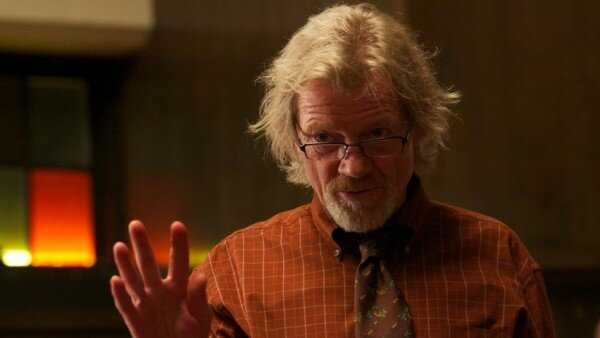 There is a temptation to frame a review of Red State in a discussion of Smith's outspoken, arguably rather juvenile views of the film industry and film criticism. But bad publicity aside, there is little doubt in my mind that Red State proves him as a versatile filmmaker, with far more talent and ambition than his detractors would have you believe. To say that it is his most visually dynamic movie is to state the obvious, while to claim that it contains some of his best written dialogue is to almost miss the point of making a comparison. It is no exaggeration to say that Red State is like nothing Smith has ever made before. Frankly, the films it seems less like the director's tenth outing, but more like his furious, guttural debut. Often messy and frequently distracted, but possessing a violent, verbose, angry intensity that seizes your guts and doesn't let go.

Follow the author Tom Clift on Twitter.
Related Posts: