There's something about the 70s and 80s that brought out the best in Australian cinema. Perhaps it was the way we celebrated and shared our various idiosyncrasies with the world, be it the outback in Mad Max, mateship in Gallipoli or larrikinism in Crocodile Dundee. Or perhaps it was just those unseemly short stubbies that made no effort whatsoever to conceal a man's meat and two veg. Whatever it was, it's gone now, and that tin-shed we now call a film industry would do well to get it back.
Enter Kriv Stenders, the director you can thank for finding our movie mojo again with Red Dog, an affable Aussie dramedy that turns back the clock and pretends that the golden age of Australian cinema never ended. Like the best of them, it's based on a true story, and like the best of them, it might actually find an audience. Imagine that!
Clocking in at a curt 92 minutes, the film feels the need to hit the ground running, beginning rambunctiously with a flurry of rapid edits, grating character introductions and a slew of overplayed gags. If Baz Luhrmann ever directed a 'Men at Work' music video, well, I've now seen it. But once the film stops trying so hard to be zany and slips into a mellower groove, it charms with a heartfelt tale about a pooch who unites an entire community of lonely miners.
The story, told via an assortment of flashbacks spanning the 70s, is framed around the arrival of trucker Tom (Luke Ford; Animal Kingdom) in the desolate town of Dampier in Australia's North West. Stopping at the pub for a cold beer, the locals seize the opportunity to recount Tom the story of Red Dog, the dust-covered Kelpie who befriended the community and became something of a local legend. Loved by everyone, but answerable to no one, Red Dog eventually finds his master in bus driver John (Josh Lucas; The Lincoln Lawyer), a nomadic American who also has trouble settling in the one place. John decides to stick around after the arrival of Nancy (Rachel Taylor; Transformers), the saucy secretary who inevitably cosies up to the hunky Yank in the absence of a beardless alternative.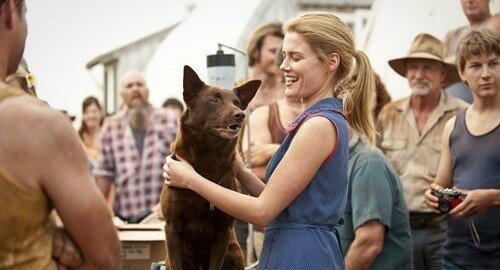 If you've got a soul, you'll find it impossible not to smile at the slapstick antics of Red Dog, played exclusively by the expressive two-year-old Kelpie Koko. His two-legged co-stars aren't too shabby either, overcoming their stereotypical, broadly-drawn characterisations with cheery, broadly-appealing performances. There's no racist, sexist or homophobic subtexts here – everyone's on their best behaviour, which is a welcome departure from the typically draconian depiction of Australian society our industry tends to emanate on screen.
The unadorned screenplay by Daniel Taplitz firmly yanks at the emotional strings you'd expect from a movie about canine camaraderie, but it also tugs at a few you might not. Tears will almost certainly be shed, most of which are well earned.  I will say, however, that the romance between Josh Lucas and Rachel Taylor could have benefited from some extra embellishment; I don't doubt two shared some sparks on set, but the camera just wasn't willing to wait around long enough to catch them.
Stenders' last outing was the grim colonial drama Lucky Country, which according to the four people that saw it, wasn't too bad. Indeed, it was a well-made period piece, but it also epitomised everything Australian moviegoers loathe about Australian movies – too dark, too dreary and too dissonant. With Red Dog, Stenders has done a complete backflip, fashioning a fun, family-friendly flick on the foundation of Disney's winning formula. Moreover, like the best films to come out of the Australian New Wave, Red Dog is a movie about mates, larrikins and the outback. Oh, and awfully short shorts.

Follow the author Anders Wotzke on Twitter.
Related Posts: