Emerging Australian actor Luke Ford, 29, kick started his career by guest starring in a number of Aussie dramas such as Water Rats and McLeod's Daughters, eventually landing him a leading role alongside Brendan Fraser in the 2008 Hollywood blockbuster The Mummy: Tomb of the Dragon Emperor.  He has returned home to co-star in Animal Kingdom — the critically acclaimed crime drama from first-time director David Michôd – playing the youngest of 3 brothers in a Melbourne criminal family being hunted by the police.
Animal Kingdom boasts an impressive ensemble cast of Australia's pedigree performers, including Guy Pearce, Ben Mendelsohn, Joel Edgerton, Jackie Weaver and, of course, Luke Ford. I was given the opportunity to talk with Luke over the phone about the complexities of his role, his love/hate acting relationship with co-star Ben Mendelsohn and the chances of him returning to do another Mummy sequel.
CUT PRINT REVIEW: You must be chuffed about the critical success the film has enjoyed thus far; winning the World Cinema Grand Jury prize at the Sundance Film Festival is no mean feat! Were you at the festival for the award ceremony?
LUKE FORD: No, I wasn't. I working at the time on a film called Face to Face. It was my agent who broke the news to me. But I had heard previously of the great reception there was and I was talking to David [Michôd] by email about it. So yeah, then I later heard we won the award! I think someone said we were the first Australian film to have ever won it. So that's an achievement!
CPR: Have you been surprised by all this critical acclaim? Did you realise early on that you were involved in something of such calibre?
LF: Not really, no. It wasn't like there was anything wrong with it, it was just that we were so within our own roles we don't really get a chance to see or think of what it was actually like from the outside. I do remember asking Ben Mendelsohn "what do you think this film is going to be like?" and he just said "I don't know, mate…"
So the outcome really is a credit to David and what he's done with it.
CPR: How does working with a first-time feature director like David Michôd compare to someone more established?
LF: David has resemblance of all those great directors you watch special features about on DVD's, like [Martin] Scorsese and[Clint] Eastwood. He has a beautiful approach to his work; he's also very inviting to the actors. He trusts his cast and lets the actors mould their character to the point where he would say "Ok, how can we put this in the scene so it works?"
So for a first time director, he was world class.
CPR: You've said in past interviews that you're not really one to get involved with films depicting extreme acts of violence. There are a few scenes in Animal Kingdom that are quite graphic and disturbing, so I'm just wondering whether your stance has changed at all?
Yeah, well it's not the sense of violence I'm worried about. It's a sense of it being…not in an educational way. I've done one [horror film, Ghost Machine] — which wasn't that violent — but I'm not one for scary films. Films that just use violence in way that glorifies it just to scare people are something I don't want to be a part of. Animal Kingdom is more about learning and growing and seeing this dysfunctional family get torn apart.
CPR: Yeah, it's definitely not a horror film…
LF: Exactly, and that's what I mean. Like, I remember going to see the remake of Texas Chainsaw Massacre six or seven years ago and I almost just walked out. I was like, "this is just not healthy for people".
But I think this film, Animal Kingdom, is. This film is healthy for people to a certain extent.
CPR: Ok, so let's talk about your character Darren, who I'd say is one of the more complex characters in the film. In a nutshell, how would you best describe him?
LF: Inflicted. A very inflicted human being, based on what his family has been like. You know, his brothers have shaped him and moulded him into the human being he is. So yeah, inflicted is the best description.
CPR: He's quite different a different character to the ones we've seen you play in the past, which have been the more outward or emotionally upfront types. He's much more of an introvert. Was that difficult to portray?
LF: Yeah, oh yeah it was very tough. Because to some extent, I am a very extroverted kind of guy, and Darren is, as you say, very introverted. So what happens is that I had to find a way – because I'm normally a guy who likes to have to pitch to actors, and try and get them to be affected by me. But it was the opposite way this time.  Luckily though, I had a great actor like Ben Mendelsohn who was just phenomenal in doing that. We work very similarly. I kind of said to him, "I need you to help me."
And he said, "yeah, and I need you to help me." 
"Ok let's just do it!"
At times though, I wanted to kill him!  Sometimes I really just wanted to kill him because my voice was wanting to come out. But it was about sheltering that; crushing it to its weakest point. So I think we both did a good job at that.
CPR: Yeah, definitely. There's a fascinating, tense family dynamic in this film. Did you all spend a lot of time together in pre-production to get comfortable as a 'family'?
LF: We did a lot of rehearsals together; reading it, feeling it and all that. Then me and Ben did a little work outside of that. We went and checked out some place where, you know, we thought this family would live. I also went and walked down Chapel Street [Melbourne] because David said that's where my character would probably hang out. So I hung out in Chapel Street for a big period of time. So we did do a fair bit of work leading up to it.
CPR: Did you draw any experiences from your own family life?
LF: Well it was more — I grew up in an area called Castle Hill [NSW] and next door was Blacktown. And the friends that I grew up with and people that I met while being a teenager and all that, there were some families that were very similar. Not as extreme, of course. But their dads were abusive and their older brothers. I remember when I met with one of them and I was hanging out with their family for a little while. I remember just this fear. This fear of walking in there and knowing that you're not safe, but knowing that you're safe as well? It's a weird feeling. And then there was my mate — who was kind of where I went with Darren a little bit — who was conditioned to constantly defend himself, but knew he would lose every single battle he tries to win. That stayed with me.
CPR: There's this interesting scene where Ben's character Pope questions Darren's sexuality, although it's left fairly ambiguously. How did you read into it; is Darren gay?
LF: No, he wasn't gay. No, I think it was more… a big brother relationship thing. I always had this feeling that Ben's character abuses me in a way, and that this was a form of his abuse. And there's no point in me defending it. You just got to walk right through it, you know? That's kind of what I did in that scene.
It was a tricky one, but no I'm not gay. My characters not gay, I mean!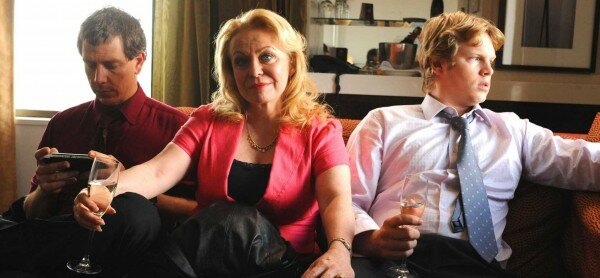 CPR: Did any of the more veteran cast members like Ben [Mendelsohn], Guy [Pearce] or Jackie [Weaver] give you any advice for the road ahead?
LF: Ben was the more influential type for me in this film. He's grown up in the industry, which is what I've done a little bit.  He also works in a similar way to what I work, although his is more evolved, of course. He's had more experience. So it was great to just watch him work and learn from him, and he was always quite happy to give me advice in that sense, too.
So yeah, Ben was brilliant. It'd be a treat to work with him again.
CPR: Yeah, the thing I find interesting abut Ben is that despite his immense talent, he doesn't seem to be all that interested in crossing over to Hollywood. You had a taste of Hollywood with The Mummy 3, is the big-budget blockbuster something you want to return to?
LF: Oh, I can't really say If I do or don't. It's more about, for me, how am I going to grow as an actor. It's not about growing in the bank account. It's not about growing in worldwide reception. It's about growing in your craft. That's what I think Ben has done. He likes to do things that challenge him with his work and craft.
You know, if you look at some of the great actors like Daniel Day Lewis and Sean Penn. I mean, Sean Penn has never really done a real, actual Hollywood film, you know? He's never done that. He just works on films that will make him a better actor. But it's taken him years to get that recognition, and I think that's where Ben is starting to reach. He's starting to get that recognition now. So we'll see what happens. I think he's actually doing a Hollywood film at the moment, so we'll see what happens.
CPR: So if they approached you to do a Mummy 4, would you do it?
LF: Actually, I would. I mean, I wasn't a big fan of the final product of the film [being the Mummy 3], but there were a lot of mistakes I made as an actor in that film that I really want to fix up. So yeah, I would.
But being a big Hollywood star is something I wouldn't give a shit about, to be honest. I really don't care. If I start caring about that then…my penis will shrink. [laughs]
CPR: Here's a hypothetical for you; just say all your acting gigs suddenly dried up, what would be your plan-B career wise?
LF: Gee, that's a good one. Maybe teaching?  I like to give back. I'm one of those guys that is more about the world than me.

CPR: Ok, so how about this one: out of all the actresses in the world, who would you most want to share an onscreen romance with?
LF: Meryl Streep.
CPR: Really!?
Yeah, she's awesome!
CPR: Oh, no argument there. But that'd be quite controversial!
LF: It would be, but she is beautiful.
CPR: Well on that brilliant note, I think we'll end it there!
Thanks Luke for your time and best of luck with the film!
LF: Cheers!
—
Animal Kingdom is in cinemas June 3rd, 2010.

Follow the author Anders Wotzke on Twitter.
Related Posts: