Gnomeo and Juliet might very well be the first big screen adaptation of Shakespeare's classic love story made for children – it's certainly the first to feature feuding garden gnomes – but that doesn't disguise just how generic, how kitschy, much of it feels. It's the kind of film I imagine was accidentally conceived during a studio pitch meeting over at Disney, where someone from Creative jokingly suggests the title Gnomeo and Juliet to break the silence, and everyone in the room has a little chuckle. That is, everyone except for their boss, who jumps out of his chair, slaps the table and excitedly declares, "That's genius!"
And before they know it, they're pouring millions into Starz Animation in Canada, the studio who previously worked with apocalyptic puppets in Shane Acker's 9. To be fair, their craftsmanship is up with the best; it's quite impressive how they've managed to retain the distinct clay look of these gnomes when bringing them to life. The sound design is also exceptional, particularly the way the gnomes faintly 'chink' upon contact. But at the end of the day, they're all just hollow on the inside. Brimming with shallow Shakespearean references and limp pop-culture gags, the adapted story by writer/director Kelly Asbury (Shrek 2) and eight others – Alarm bells! Alarm bells! – appears to have been churned out of a screenwriting sweatshop, where quality and originality aren't much of a priority.
The story begins with the introduction of Miss Montague and Mr Capulet, two feuding neighbours who live on – you guessed it – Verona St. They each have an obsession with garden gnomes, which when they're not looking, come alive. Colour coded red and blue, these gnomes share a similar hatred for the opposing household, constantly trying to spoil each other's garden. Over on the blue side, we meet Gnomeo (voice of James McAvoy; Wanted), the young and adventurous son of Lady Blueberry (Maggie Smith; Harry Potter and the Half-Blood Prince), who engages in lawnmower races with his vile red rival, Tyblat (Jason Statham; The Expendables). Tybalt is the cousin of Juliet (Emily Blunt; Gulliver's Travels), an attractive maiden who is sick of being told by her overprotective father, Lord Redbrick (Michael Caine; Harry Brown), that she's too delicate to help around the garden. To prove she's more than capable, she sets out at night to retrieve a striking flower from a vacant lot across the street. There, she inadvertently bumps into a disguised Gnomeo, who is also after the flower. The two immediately hit it off, until, of course, they realise their love is fatefully star-crossed.
What results is tragic alright, but not in the same way as the Bard intended. The writers deserve some credit for at least acknowledging the more notable deviations from the source material, which was always going to be necessary in assuring children don't depart from the cinema in tears (and with a disastrous impression of true love). What they don't acknowledge, however, is the stark similarities the film shares with Pixar's Toy Story, the irritating comic-relief character they've copied from Madagascar's King Julien, and a video gag they've lifted from the viral internet meme, Powerthirst. Not even the score is original, consisting of garishly revamped classics by Elton John, who also serves as the film's executive producer. Elton clearly had a lot of input during the creative process; why else would there be tanned Brazilian gnome walking around in nothing but a tight Mankini that would even make the likes of Borat blush?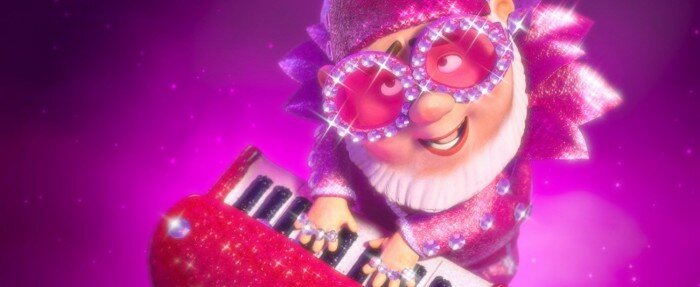 It must be said that Gnomeo and Juliet is not a terrible movie; the animation is attractive, and there's enough colourful action sequences to hold short attention spans captive. But the real heart and soul of Shakespeare's classic play is glossed over by the derivative screenplay and rote direction. Simply put, it's misguided; whilst the moral of the story remains 'make love and not war', the observant will notice how the film actually ends on an unsavoury note that suggests you can, in fact, buy love online, with the click of a button.
–
Author's Note: After receiving a number of complaints regarding the content of this review, I have decided to edit the article from its original form. On behalf of everyone here at Cut Print Review, I sincerely apologise to those who were offended.

Follow the author Anders Wotzke on Twitter.
Related Posts: