When Pixar raised the bar in digital animation earlier this year with the remarkable WALL-E, DreamWorks' success with Kung-Fu Panda was all but lost in the mute robot's boxed shadow. Half a year later and DreamWorks have hit back; revisiting their 2005 animal caper Madagascar, a film that was begging for a sequel after it went on to make over $350 million worldwide. With star studded voice talent, top-notch character animation and a solid serving of laughs, Madagascar Escape 2 Africa is guaranteed to be a box office success. However, even at its prime, the film is certainly not going to stop WALL-E from rolling his grubby tracks all over the upcoming Awards season.

Picking up right where the original left off, the Zoo animal misfits – consisting of Alex the performing Lion (Ben Stiller), Marty the wisecracking Zebra (Chris Rock), Melman the miserable Giraffe (David Schwimmer), and Gloria the sassy Hippo (Jada Pinkett Smith) – attempt to return home to New York on a terribly compiled makeshift plane. Not surprisingly, the plane piloted by a cunning crew of Penguins crash lands over mainland Africa, leaving the Animals stranded until the plane is repaired. Without opposable thumbs however, the Penguins note that it's going to take some time, allowing the four friends plenty of time to meet the locals. When they realise they have a more in common with the wild animals than they first thought, the friends begin to question whether it's worth going back to New York after all.
For a 90 minute film, Madagascar 2 packs in a surprising number of life lessons that will do well at both educating and entertaining the little ones. With an undeniable likeness to that of the Lion King, the story addresses the importance and troubles of friendship, family, teamwork, individuality, tradition, love, sacrifice and even humanity's habit to intervene with Mother Nature. Unfortunately, these lessons are not able to to fit seamlessly into the primary story, resulting in a great deal of subplots to suffice. As a result, the story comes across as noticeably shallow, especially in comparison to the more profound narrative of WALL-E, leaving the adults in the audience little to latch onto. That's not to say the film isn't enjoyable for those whose feet do touch the floor when seated, as Madagascar 2 does contain a lot of humour aimed at an older audience – including a cheap stab at Charles Darwin and a flamboyant Lemur's dream of imposing his ideology on a neighbouring country. Thanks to the frequently witty dialogue, particularly from Julian the pretentious Lemur King (voice by a show stealing Sacha Baron Coen) and the crew of crafty Penguins, Madagascar 2 is far more consistent in its humour than the original.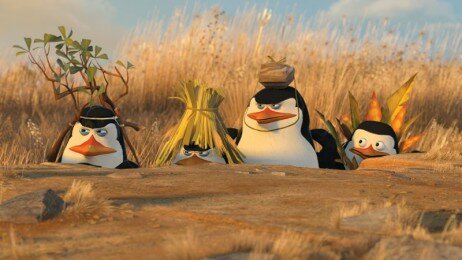 As you'd expect from the team behind Kung Fu Panda, the character animations are superb. DreamWorks brings the many characters to life by giving them each a distinct personality, often having an uncanny resemblance to that of the real world voice talent. That being said, it got to the point where I couldn't help but picture the voice talent rather than the animation on screen, especially in the case of Ben Stiller as Alex and even more so with Alec Baldwin as the villain Makunga, which somewhat prevented me from being fully engaged by their animal persona. I also can't help but notice the racial sterotyping of the cast; with Chris Rock as the wisecracking sidekick and Jada Pinklett Smith as the "big bottomed" ghetto talkin' Hippopotamus.  Minor grievances aside, it's clear that DreamWorks have certainly stepped up the quality of the 3D rendering: one look at Alex's mane as each follicle moves naturally with every movement shows just how much care is put into animating each character.
Yet DreamWorks have placed these marvellous character animations inside a colourful yet rather listless environment. Sure, one could argue that they didn't have much to work with considering the African wilderness is quite barren, but WALL-E also taught us that even a rubbish dump can be a visual treat. It's not that they aren't well rendered – the water effects look stunning – but the backdrops are just not as fun or visually arresting as the medium so readily allows. This is coupled with a notable over-reliance on one-liners to provide the humour, as there are not nearly as many visual gags as you'd expect from those responsible for the visual hilarity of 2001's Shrek.
Conclusion:
In a Post WALL-E world, it's hard not to be slightly underwhelmed by Madagascar: Escape 2 Africa. It's often funny and it will certainly have the kids thoroughly entertained, but you're unlikely to leave the cinema feeling fulfilled by its patchy story and mixed visuals. With Madagascar 3 already announced, I'd much rather see DreamWorks leave this franchise behind and come back with something far more profound and refreshing that works for adults just as much as it does for kids.

Follow the author Anders Wotzke on Twitter.
Related Posts: