Arriving late in an apocalypse-obsessed year of film, the action-centric animated flick 9 is a gloomy survival story that treads all too familiar ground with its mechanical narrative and shallow characters. But boy does it look pretty!
The brains behind the project is animator/director Shane Acker, whose 11-minute short of the same name deservingly earned him an Academy Award nomination in 2005 and can now be watched in-full on YouTube (spoilers abound). It didn't win Acker the Oscar, but it did catch the eye of Tim Burton (Sweeny Todd, Edward Scissorhands) and Timur Bekmambetov (Night Watch, Wanted)  who then went on to produce this feature length adaptation with Acker at the helm. Clocking in at a measly 79 minutes, I'm being generous by calling this a feature length film, as the primary difference between this remake and Acker's original short is that you now have to pay over $14 to see it.
In an intriguing opening act that shares an uncanny similarity with Pixar's WALL-E, the film begins with a ragdoll named #9 (Elijah Wood) awaking in a visually striking post-apocalyptic world seemingly devoid of all life. He is the last of a small ragtag group of dolls to awake, each  individually infused with a unique human quality by their genius creator (Alan Oppenheimer) in order to preserve humanity after the world falls silent. The end of our existence, as explained by the group's authoritarian leader #1 (Christopher Plummer), was brought on by the development of a procreating war machine (never a good idea) that went rogue and killed off all living organisms with a poison gas. Unwilling to sit idly by as a mechanical monster picks them off one by one in the wastelands surrounding their hideout, the  heroic #9, his timid sidekick #5 (John C. Reilly), gifted warrior #7 (Jennifer Connelly as the sole female of the group) each defy #1 by setting out to destroy the vicious machine and end the war once and for all.
Borrowing conceptually and stylistically from the classic animated short Street of Crocodiles, along with more recent feature films such as the Terminator and Matrix series, 9 brings little originality to the table beyond some inspired visuals. It's a shame because the original 9 was compelling in its oblique and figurative narrative, showing a lot of promise for expansion. Yet the extended story of the new 9 loses much of its intrigue by filling in the blanks with plain-stated plotting and a myriad of crash-bang chase sequences. While the action is thrillingly staged, impressively animated and aurally awesome (Burton's composer pal Danny Elfman leaves his distinct mark), it takes such precedence over the narrative and its messages — such as 'don't play God' and 'strength in unity' — that it feels as if Acker was pressured into making a money-making thrill ride instead of a mind-mulling sci-fi.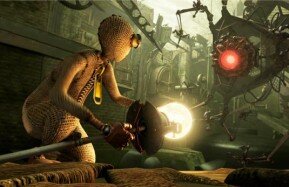 Acker's original short didn't feature any dialogue, which might help explain why it feels so unnaturally forced in this adaptation. The voice acting is serviceable enough; Elija Wood is a tad flat in the titular role while Christopher Plummer is standout as #1. The problem is that Pamela Pettler appears to have written the screenplay using Twitter, as each utterance is roughly 140-characters in length and tends only to divulge what is necessary to the plot and nothing more. Consequently, the budding romance between #9 and #7 is so horribly underdeveloped, as the two share approximately four sentences with each other throughout the entire film.  There's also this peculiar pause between conversations, which is probably a fault in editing more than anything else, but it all adds up to a number of less-than-human characterisations. Considering the preservation of humanity is what this film is all about, this becomes a bit of a problem.
Yet despite all these shortcomings, 9 is not a terrible film. Nor is it ever boring. At just 80 minutes, the film is short enough for the impressive art direction and solid sound design to keep us interested. Only just…
–
WIN tickets to see 9! Click here to enter.
[Rating:3/5]

Follow the author Anders Wotzke on Twitter.
Related Posts: