If only passing through airport security was a quick and painless in reality as it is for George Clooney's character in Up in the Air, who casually slips through the draining protocol, grinning the whole time from ear to ear. And why shouldn't he be smiling; not only is Clooney in the middle of delivering the best performance of his soaring career, he's starring what is also the first great film of 2010.
Up in the Air is the blended product of screenwriter/director Jason Reitman's brief but stellar career thus far, taking the cynical wit of his first venture Thank You For Smoking and mixing it with the cordial candour of his acclaimed follow-up Juno. The result is a shrewdly perceptive look at the globalised corporate culture of today, asking – and answering — the question of where relationships fit within our busy schedules.
Radiating enough charm to diffuse any high-tempered situation, Clooney was born to play Ryan Bingham; a man who jets across the USA from one business to another laying-off employees on behalf of gutless CEO's. When he's not committing corporate genocide, he's conducting inspirational speeches about how relationships are unnecessary baggage that stop you from moving. "Make no mistake", states Bingham to his class, "moving is living". Editor Dana E. Glauberman seems to agree, chopping away at time like a master chef, lending a seductive energy to what could have been a lethargic 109 minutes.
Of course, Ryan's nomadic way of life comes under threat by young know-it-all graduate Natalie (Anna Kendrick), who believes a internet video chat is a cost-effective alternative to the constant travelling. Feeling as though he's about to be evicted from his home, Ryan takes Natalie out of the office and into the field to show her that there is a sense of dignity to his personalised, face-to-face approach.
But that's just the coming of age component of the film — Up in the Air also doubles as an endearing romantic comedy where Bingham engages in a fiery no-strings affair with his female equivalent Alex Foran (Vera Farmiga). Yet what starts as casual becomes something more for Ryan, forcing him to rethink his insular outlook on life.
The structure sounds all too familiar on paper, but Reitman's screenplay – which is based on the novel by Walter Kirn — flies past conventions in practice. Without being too pretentious, too vulgar or too sardonic, Reitman takes the qualities of the classic movie and remoulds it using 21st century humour and relevance; the great depression is now the global recession, the act of flirting is now comparing mileage points and breaking up is now done via text message.  Up in the Air is one of few movies to truly get with the times, and actually get it right.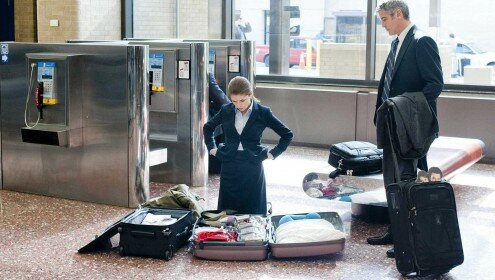 You know a good director is at play when each cast member brings their absolute best to the table. For all accounts we should hate Ryan Bingham — he's corporate sleaze who he gets paid to fire people and doesn't care much for family — but Clooney's limitless charm isn't excessively exploited, preventing Ryan from coming across as overly smug. It works perfectly; we believe in Ryan. We like Ryan. Heck, we even relate with Ryan.
With few prior credits to her name, Anna Kendrick (Twilight, Elsewhere) turns heads as the naive college grad Natalie. She lends it an affable sincerity to what could have been an irritating, overly passé character designed to furtively educate Ryan who believes he's the one educating her. The other woman in Ryan's life is Alex, played with flirtatious spark by a sassy Vera Farmiga (Orphan, The Departed), entirely convincing as the one to break through Ryan's dense defences and still come out on top.
The film has a few flaws; after two brilliantly refined acts, the message comes across too bluntly during a lengthy wedding sequence in the third act. Furthermore, obtrusive endorsements for American Airlines and Hertz have clearly wormed their way into the otherwise intelligent dialogue ("Hey! You forgot to hand me your Hertz #1 Priority Club Card!" unnecessarily yells one employee).
But these slight quibbles don't stopped Up in the Air from being a great, often brilliant film. Few films speak such relevant truths whilst being this funny and this endearing. Get your boarding passes now, as this one's flying straight to the top.

Follow the author Anders Wotzke on Twitter.
Related Posts: