It's easy to laugh at the inherent goofiness of Legend of the Guardians: The Owls of Ga'Hoole, a Tolkien-esque fantasy epic in which a bunch of talking CGI owls don ornate suits of armour and deliver lines like "Trust your gizzard, Soren" without so much as a wink. In fact, there isn't a single sight gag or pop culture reference to speak of, which is astonishing, really, when you consider "Lady GaGa'Hoole" practically writes itself.
But for that very reason, you've got to admire Australian animation studio Animal Logic. They've traded in their Happy Feet for some serious dramatic talons with Legend of the Guardians, boldly choosing not to prescribe to the industry norm that suggests talking animals belong only in innocuous comedies starring Eddie Murphy.
And the risk has paid off. Guardians is an absolute hoot.
By not underestimating the emotional intelligence of a younger audience, director Zack Snyder (300, Watchmen) cleverly offsets mature themes such as racial purification — yes, a kids film that alludes to Nazi Germany — with a classic fantasy fable and jaw-dropping 3D visuals. Without question, these are the nicest looking hooters you'll ever see in a movie. Well, a movie with a PG rating.
The Cain and Able story follows the adventurous Soren (voice of Jim Sturgess) and his jealous brother Kludd (Ryan Kwanten), two young Barn Owls who are abducted from their hollow by an army of militaristic owls seeking to establish a purist society. Along with an Elf Owl named Gylife (Emily Barclay), Soren manages to escape captivity, while Kludd, basking in the approval of the purist queen Nyra (Helen Mirren), opts to stay behind. With no time to lose, Soren and Gylife embark on a quest to find the fabled Guardians of Ga'Hoole, an almighty bunch of warrior-owls capable of bringing an end to the 'Pure Ones' reign of terror.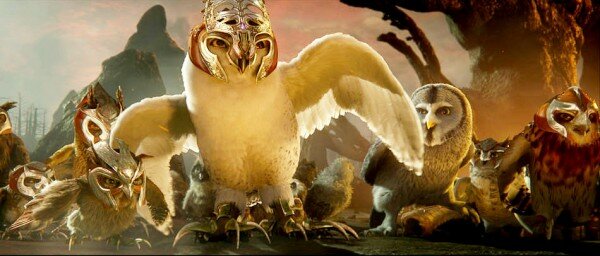 Based on the teen fiction novels by Kathryn Lasky, screenwriters John Orloff and Emil Stern had a tough gig condensing three of the fifteen(!) books into a mere 90 minutes of film. The pacing and tenor is spot on, but they tend to struggle with telling a coherent story on such a tight schedule as a few key plot points fly by without due clarification. That said, it's far from incomprehensible, boiling down to a classic struggle between good and evil that climaxes with a spectacular action finale. Snyder, an auteur of sorts when it comes to stylised visuals, is clearly in his element during the action sequences, using slow motion to mouth-watering effect. Like Avatar before it, Guardians is visual ecstasy.
At least, it is for anyone over the age of 8. The last reel is genuinely quite dark and frightening, proving to be too much for one young boy (aged 5 or 6) in the cinema who burst into tears the moment the owls clashed talons. Fair enough, too, as watching cute and fluffy birds attempt to mutilate one another, even without any actual gore, is a far cry from Happy Feet. Still, every other child in the packed cinema fell deafly silent during the finale. And I bet that was music to parents' ears.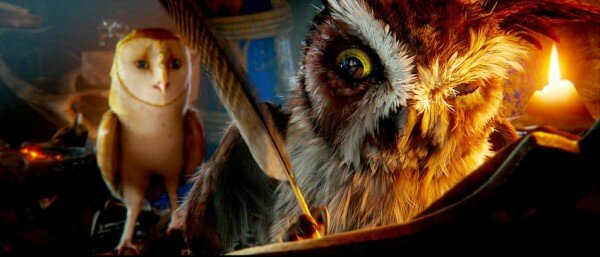 Something I'll never understand about fantasy films is their affinity for obscure character names. Heaven forbid anyone be called Dave or Kate, because that'd be just too damn easy to remember. I doubt even Geoffrey Rush could correctly pronounce the name of his character Ezylryb (pictured above), a battle-scarred Guardian who teaches Soren how to become a warrior. At any rate, Rush is a highlight amongst the stellar voice cast that is basically a who's who of Australian and (some) British actors. My only qualm is that a few of the voices sound too similar – the deep baritones of Hugo Weaving, Sam Neill and Joel Edgerton are almost interchangeable at times – which is an issue when there are so many characters being introduced in such a short timeframe. Nor does it help that they're all owls called something silly like Hsbfodam. No, that's not an actual name, and yes, I just smashed down letters on my keyboard to come up with it. But I daresay that's not far off how it's actually done.
It's enough of an issue to say Legends of the Guardians is not Pixar perfect. Heck, not much is. But it's definitely nesting in the same neck of the woods.

Follow the author Anders Wotzke on Twitter.
Related Posts: