Remember back in 2009 when Anne Hathaway, hot on the heels of her Oscar nomination for Rachel Getting Married, starred in the dreadful rom-com Bride Wars? Or what about Sandra Bullock, who was crowned Best Actress at the Academy Awards for her role in The Blind Side not a day after she took home the Worst Actress award at the Razzies for All About Steve.
Well, something must be in the water, because now Natalie Portman has followed suit.  The charming 29-year-old actress, who is currently the talk of Tinseltown for her Golden Globe-winning performance in Black Swan, has blundered big time with No Strings Attached, an aggressively mediocre sex comedy from veteran director Ivan Reitman (Ghostbusters, Junior).
It's exactly the kind of shallow rom-com Portman (Brothers, Closer) has admirably managed to avoid throughout her burgeoning career, something that cannot be said about her co-star Ashton Kutcher (Killers, What Happens in Vegas), who doesn't seem capable of doing anything else.  While the screenplay by first-timer Elizabeth Meriwether isn't nearly as dire as the aforementioned doozeys Bride Wars and All About Steve, it's still about as generic as a pair of Balinese sunglasses, burdened by flimsy plotting, flaky characterisation and a desperate need to be profane in order to be funny.
It begins awkwardly some fifteen years earlier at summer camp, where a teenage Emma (Portman) turns down an uncouth proposition by Adam (Kutcher).  Over the following years, their lives go in separate ways — Emma becomes a workaholic doctor, while Adam becomes a PA on a Glee-like TV show — yet the two keep bumping into each other (it must be fate!).  When Adam learns that his bimbo girlfriend has left him for his gregarious father (Kevin Klein), he goes on a binge with his comic-relief buddies, calling every female in his phonebook in the hope of a fling. Emma answers his call, and although Adam passes out before he can seal the deal, he makes up for it in the morning. While Adam is perfect boyfriend material, Emma is a strictly no-relationship kind of gal, so the two agree to be friends with benefits — aka sex partners without all the romantic stuff.
Of course, it doesn't work. There is but one short montage where film lives up to its playful premise of casual sex, in which Adam and Emma meet whenever and wherever to bump uglies. It's just about the only time No Strings Attached has any energy or an edge; the remaining film falls back on the same old "don't call me!", "should I call her?", "go to him!" antics that could be seen on the next Grey's Anatomy repeat.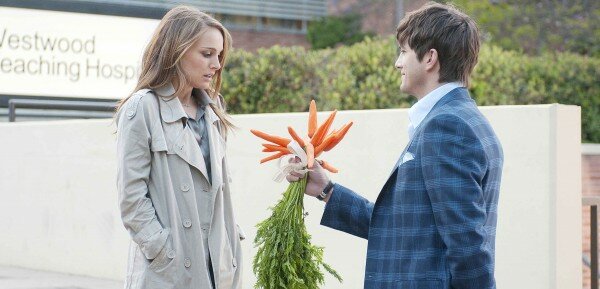 If I had to dig for praise, it's impressive that Reitman manages to get the 5'2" Portman and 6'3" Kutcher in the same frame. While Portman handles the emotional ups and downs with nuance, she hasn't a knack for comedic timing, which coincidentally is Kutcher's only redeeming quality. The two are likeable enough in their shallow roles, but there's not much in the way romantic chemistry for the simple reason that there's not supposed to be — that's not how casual sex works. By the time actual sparks start to fly, the trivial complication sets in, splitting the two up and leaving them to confide in their sitcom besties who, outside of weighing in on Emma and Adam's relationship, don't seem to have any lives of their own. In fact, no one does; beyond the core romance, there's scarcely a single plotline for the audience to invest themselves in while all the hokum plays out.
And that's the film's most critical flaw. The best rom-coms are the ones where the romance is a sub-plot that slowly works its way to the fore. For example, in 2009's Up in the Air, made by Ivan Reitman's talented son Jason, George Clooney plays a smug businessman who travels around the US firing people from their corporate jobs. Essentially, he's the male version of Portman's Emma; he doesn't have the time for a relationship, so when he meets up with Vera Farmiga's character for casual sex in Airport motels, there's no obligation to stick around for breakfast. Then, of course, he falls in love. But because this romance plays out alongside an amusing and moving drama about corporate America during the global financial crisis, it's made all the more credible and compelling, something that can't be said about Kutcher and Portman's hooey relationship in No Strings Attached. Sure, Emma is a practicing doctor, but to what end? It adds zilch to the story.
So the irony here is that without these narrative threads — without strings — there's nothing to pull the film in the right direction.

Follow the author Anders Wotzke on Twitter.
Related Posts: