Lately Adam Sandler films have been hit and miss, and in between serious and crude offerings he often hasn't delivered on expectation. Working with children or within a childish theme seems to be his strongest point (Billy Madison, Big Daddy) and he returns to this in Bedtime Stories. It works in his favour as we are given a feel-good fairytale that provides a different offering for the kids (to the animation onslaught) and a watchable story for adults.
Skeeter Bronson (Sandler) waits every day for the manager position of his father's old motel to be given to him as was promised when he was a child. When his sister Wendy (Courteney Cox) springs a week-long babysitting job on him, Skeeter finds himself the underdog as favourable best friend Jill (Keri Russell) knows his niece and nephew more than he does. To cope with his life's dilemmas he turns his frustration into bedtime stories that partly become reality after they're told.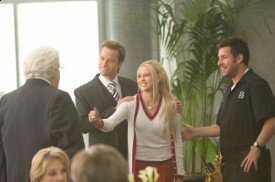 In-flavour director Adam Shankman (Hairspray) has a great cast who hold the film well together with their unique performances. It's great to see Guy Pearce as villain Kendall, drawing on the flair used in Priscilla, Queen of the Desert, while Russell Brand gets the biggest laughs as Skeeter's dim-witted best friend. Keri Russell gives an understated love interest and Teresa Palmer, Australia's latest up-and-comer, is striking on screen although her performance is limited. That's only because the show really belongs to Sandler and the kids though. Laura Ann Kesling and Jonathan Morgan Heit are what you would want when working with children; as Bobbi and Patrick they're cute but not too cutesy, while Sandler himself works well with them to present a believable team. He doesn't give an over-the-top performance that he's so privy to doing, and in doing so lets us believe, to a degree, the incredulities happening to him – enough for the film's purpose, as opposed to being turned off by it. Having said that, there can't be an Adam Sandler film without at least a cameo from Rob Schneider – but it is minimal and surprisingly doesn't detract from the storyline too much with unnecessary humour.
Shankman has handled this quite well, and his key is making it fun with minimum o-t-t extravagance. The narration from Skeeter's dad Marty (Jonathan Pryce) suits the fairytale feel, while all the other plot conventions are given a comedic touch but without the sugar many kids films are recently projecting. There aren't any subtle jokes for the adults, but there doesn't need to be because the film works well with just the story.
Conclusion:
Bedtime Stories gets a thumbs up for being a regular kids tale; it doesn't try to be flashy, there are good characters and although the character archetypes are obvious, it's easy not to mind in what is an overall enjoyable film.

Follow the author Katina Vangopoulos on Twitter.
Related Posts: