For the Adam Sandler we've come to know and love over the years, 'are you ever going to grow up?' is a question fans have watched him struggle to answer time and time again. And while Billy Madison, Happy Gilmore and even the Water Boy Himself, Bobby Boucher Jr., have found it tough to live up to society's expectations of maturity and the appropriate expressions of Masculinity, Sandler proves once again with Grown Ups and his lead role as Lenny Feder, that he is ready to poke fun at his winning story formula once more.  Evidently, the idea of reaching a point where growing up becomes unavoidable seemed harder and harder to laugh off for Sandler & Co, instead choosing to exploit life as middle-aged citizens and their very real responsibilities as husbands, fathers and men for comedic effect. Director Dennis Dugan is back after You Don't Mess With the Zohan, I Now Pronounce You Chuck and Larry and most notably, Benchwarmers. Once again the director is seemingly irrelevant though, employed to merely record the capers of the stars.
The story opens with a flashback to a fiercely competitive childhood basketball game – a buzzer beating play cements the friendship between teammates and their respect for an aging, clichéd Coach. Cutting to present day and thirty years later, the team reunite under emotional circumstances, the hometown funeral for their old Coach becomes the proving ground for the men each has grown into. Hilariously, the team are reconstructed in a reunion sequence; Sandler as Lenny, and über successful casting agent who pulls the strings of the likes of Angelina and Brad. Kevin James as Eric, who appears to be a successful business man with more to love, especially around his middle. Chris Rock as Kurt, a househusband tired of taking crap from his wife while she makes the babies and the money. Rob Schneider as a sensitive, new age hippy who is openly in love with his third wife, aged approximately seventy. And lastly David Spade, as Marcus the oversexed drunkard; the most unlikely love rat ever to grace a silver screen. As the old team come together again for the American Independence day long-weekend, the dynamics of their friendship group reveals itself in manifestations of playful ganging up on the weakest character at any one time, and a tendency to never let a good joke die.
The screenplay, while lacking in originality, is well structured enough to let many of the strongest jokes resurface, allowing their friendship to be believable. Of course this element could also come from the fact that the actors here go way back,  from stints together as freshmen on SNL through to nearly every movie ever produced by or affiliated with Sandler's production company HappyMadison. While the previews do them no justice, the posse of wives provides an influential amount of the humour, with Salma Hayek, Maya Bello, Maya Rudolph and an elderly Joyce Van Pattern provoking the personalities of their husbands tirelessly. Family dilemmas are also central to the plot, with Lenny trying to raise men from sons addicted to money, computer games, fashion and texting their nanny for even the simplest of things. Eric's predicament as a fat dad with a fat daughter is gold, although his four year old son's obsession with breast-feeding is gross and not funny. As the men meet the state of their lives with anxiety, denial and a whole lot of veritable laughs, it is the generational differences between parents and kids that provides the necessary heartstring tugs essential to any Adam Sandler film. In teaching his kids about life, Lenny shows his little winners what it is like to lose in a sequence that reverses all of Sandler's other third act outcomes. It is both refreshing and well acted to prove the climactic change in his kids and to preserve the intention of the story – being a "Grown Up" is a big deal, but there is always still room for the kid at heart.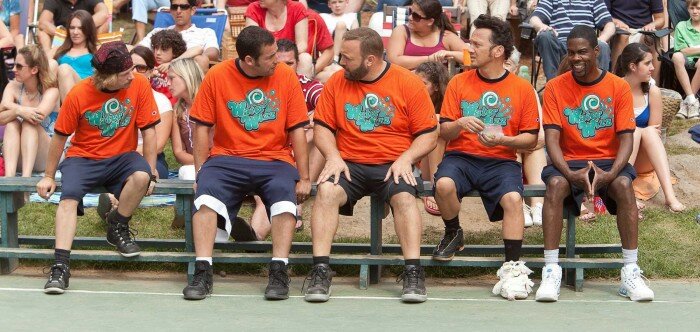 Grown Ups is the cinematic embodiment of Adam Sandler's filmmaking journey. From his beginnings as a comedian through to the household name he is today, Adam Sandler's ability to act, write and produce some of the funniest moments in nineties cinema is given a respectful bookend by Grown Ups. Although not as classic as his roles as Billy, Happy or even Bobby, Lenny feels like a careful evolution of Sandler's comedic style. Now Happy Madison fans will be asking what is next, and our faith in Adam Sandler's proven work ethic is promise that there will be more films in store. However, getting back to the filmmaking golden roots of Big Daddy or Mr. Deeds may have to be put on hold until after the release of the upcoming Just Go With It, starring *gasp* Jennifer Aniston. This film may be overlooked by Toy Story 3 and Eclipse fans, but it is another satisfying Adam Sandler film that will surely have a big DVD following.
Verdict:
You won't remember the characters' names as it's too easy to see only the actors portraying them, but their conflicts with family, friends and growing up will be easily recognised by anyone up for a good laugh.
Related Posts: