The Fighter is a boxing drama in the tradition of Rocky, straightforward and predictable in its concept and narrative, but deftly executed, finely acted and surprisingly heart-warming.
Directed by David O. Russell (I Heart Huckabees, Three Kings), and written by Paul Tamasey, Scott Silver and Eric Johnson, The Fighter is based on the true story of American boxer Micky 'Irish' Ward. It's a family drama, and at its core the story of brothers Micky, played by Mark Wahlberg (The Other Guys), and Dicky, played by Christian Bale (The Dark Knight, Public Enemies), and the personal struggles Micky must overcome to finally unleash his potential and advance his stagnating boxing career. More than that however, the film is something of a re-launch of Mark Wahlberg's stalling career after a string of flops and misfires (Shooter, The Happening, Max Payne) since his last promising role in The Departed. It's also another showcase of Christian Bale's incredible acting talent as he morphs into the crazy, drug-addled, borderline-narcissist character of Dicky.
The story follows Wahlberg as Micky, an aspiring boxer in the middling welterweight division (as opposed to heavyweight or featherweight) from the working class town of Lowell, Massachusetts. However, despite his promising potential, Micky has never gotten out of the suffocating shadow of his family; in particular his meddling manager and mother, Alice, played by Melissa Leo (Conviction); and substance abusing older brother and coach, Dicky, still clinging to his former glory as a has-been boxer. When Dicky and Alice's selfish decisions cost Micky a major fight, several of his close friends rally around him to begin a new training regime, led by Micky's new girlfriend Charlene, played by Amy Adams (Julie and Julia), but placing themselves at odds with Alice and an increasingly off-the-rails Dicky.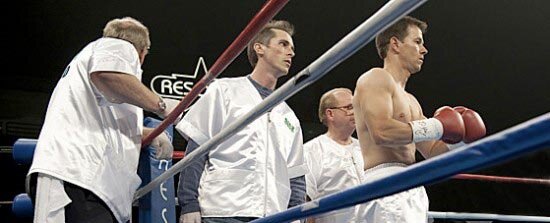 Despite being such a run-of-the-mill story, especially given it's a flick about boxing, director David Russell manages to transform the film from its generic roots into a genuinely powerful film of human drama and the often complex and troubling relationships within families. Russell injects a surprising amount of dry humour woven into the movie, largely focussed around the eccentricity and craziness of Micky's colourful (and large) family, lightening the otherwise bleak mood and look of the film. Breaking up the character drama and narratives are a few big-event boxing matches, and Russell skilfully captures the intensity and adrenaline of each punch and bloody blow in vivid detail, creating completely absorbing action scenes from nothing more than two men facing each other down in a ring.
In large part the movie succeeds however because the actors so completely draw us into their characters, their world and their struggles. Melissa Leo is delightfully infuriating as Alice, and Amy Adams performs finely as Charlene. But it is Christian Bale who completely steals the spotlight, totally transformed from his look to his accent, and utterly convincing as the delusional crack-addict Dicky. Yet Mark Wahlberg surprisingly holds his own as the quiet, downtrodden Micky, playing his role with a genuine warmth and depth not seen in some of his recent films.
The Fighter is not an edgy movie, but it doesn't need to be. It takes a powerful, if predictable, true story and tells it with realism and humanity, transfixing us with flesh and blood characters that never pull their punches.
Related Posts: