In both its non-linear structure and its astounding visual composition, Burning Man is a bit like Terrance Malick's The Tree of Life. Written and directed by Jonathan Teplitzky (Better Than Sex), the Australian drama presents a series of beautifully composed images and scenes that make up the memories from the life and marriage of it's lead character, a cocky English chef living in Bondi, Sydney. However, where Teplitzky's film differs from Malick's is in its resolute sense of directorial purpose, one that ensures that its artful images actually converge into a discernible and satisfying whole. Although the overt sense of construction does take some of the emotion out of what is eventually revealed to be a deeply tragic tale, Burning Man remains an elegant looking and uniquely assembled Australian film that doesn't fail to tell a substantive story.
Our first glimpse of Tom (Matthew Goode; Watchmen) comes as he is stands masturbating over a naked woman. It's an audacious way to introduce one's hero, and just the first of many instances of misdirection that Teplitzky employs to keep audiences on their toes. A rapidly edited montage takes us from moment to seemingly unconnected moment; the only constant is Tom, an irritable, arrogant, womanizing Englishman whose life is a blur of cooking, drinking, arguing and shallow sex. The structure of the film is intentionally designed to challenge, as Teplitzky deliberately points you in one direction and then merrily leads you in another. But the speed and energy that dominates these early sections of the film – like the frantic kitchen of Tom's exclusive restaurant – is such that it is impossible not to be engaged.
As the scenes begin to fall into place, like pieces in a jigsaw puzzle, we come to understand that behind his unsympathetic façade, Tom is dealing with the insurmountable grief of losing his wife Sarah (Bojana Novakovic; Edge of Darkness) after an agonizing struggle with breast-cancer. Suddenly, random scenes and images – like Tom starring drunkenly at wigs in a store-front – take on profoundly tragic meaning. Flashing backwards and forward between before and after Sarah's death, the films' structure, once used to confuse the narrative, now demonstrates it's protagonists fracturing psychology, as Teplitzky and editor Martin Collins' juxtapose Tom's contented past with the agony of his present.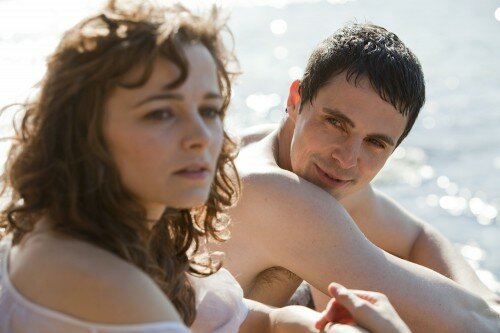 Matthew Goode is terrifically cast in the films leading role, managing the difficult task of playing a character that frequently crosses the line between charming and unlikable, while also pulling off the film's heavier dramatic scenes with considerable gravitas. Novakovic is equally good as the emotional centre of the film; as their young son Oscar, first time actor Jack Heanly – although playing a character that sometimes falls into overly precocious kiddy clichés – is extremely impressive as well. The rest of the cast is filled out by recognizable Australian actors and actresses including Rachel Griffiths (TVs Six Feet Under), Dan Wyllie (Animal Kingdom) and Anthony Hayes (Beneath Hill 60).
But the true star of the film is cinematographer Gary Phillips (Candy), who captures images that are nothing short of sublime. Each shot in this film is immaculately lit and framed, as Phillips and Teplitzky turn every plate of food, sun-soaked street and curve of Novakovic gorgeous naked body into a work of photographic art. The film's frank depiction of sex is alternately funny, tawdry and beautiful, while even a violent car-crash results in a series of images that are absolutely astounding.
The flaw of Burning Man is that it is so immaculate – both visually and structurally – that it lacks the rawness that befits such a heartbreaking tale. Teplitzky's artistic construction is always apparent, and as a result, while viewers will undoubtedly feel sadness, they may never be moved to the extent that they should be. The movie is best viewed as a work of filmic construction, one in which the aesthetic is immaculate, and the narrative so neatly designed that even the raunchy opening scene is eventually revealed as a moment of cathartic resolution. As a complete package, Burning Man is very good, but a little too pristine to be great.

Follow the author Tom Clift on Twitter.
Related Posts: