Nicolas Winding Refn quoted the filming of his latest effort as "the best Hollywood experience I could ever have" at the Cannes post-screening conference. For the Danish man who's had previous European arthouse success, it seems the ultimate dream's finally reared its head. And for his first US effort he hasn't wasted the opportunity, blending a cocktail of noir and action with a pinch of romance to deliver a violent and hopeful film with enormous appeal.
It sure looks like they had a hell of a time. Adapting the 2005 novel from James Sallis, Drive concerns an unnamed character (Ryan Gosling) who makes his way in the world working in a garage and as a stunt driver for movies shot in L.A. Okaaay, so he does jobs on the side too, but the honest guy meets Irene (Carey Mulligan) and he becomes increasingly involved in the trouble surrounding her jailed husband Standard (Oscar Isaac). The Driver interacts with everyone along the way, not knowing who to trust or what path to follow. He's forced to make decisions that don't suit him, and while that's the basis of the genre, the film has much more of an anti-action vibe to it. It's the weaving of character involvement that makes the film as strong as it is; we're given more and more as the story develops and each character's arc is fully explored satisfactorily. As The Driver gets deeper and deeper in the unfolding mess, we're opened to his long-bottled emotion, and what emerges is something unexpected of his seemingly quiet character. This comes to a head in a pivotal, almost dreamlike moment; an elevator scene quoted by producer Marc E. Platt as his favourite in the film lifts the story onto another level that we don't see coming, and in turn leads to a cracking climax. Drive is not what you expect on any grounds – it keeps you guessing characters' choices, invites you into scenes before shaking the foundations completely and genuinely surprises considering the little amount of actual plot.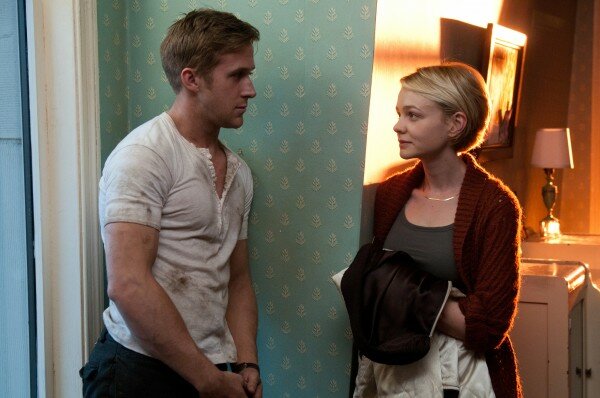 The lack of unnecessary dialogue is refreshing for the genre, and to convey so much emotion through little words is testament to the strength of Winding Refn's direction and Hossein Amini's adaptive screenplay. The soundtrack plays an important role in Drive too; the synthesized '80s score by Cliff Martinez is heavily used to create a deeply affecting eeriness to the film as a whole. Winding Refn mentioned that "there was going to be no rock'n'roll in this film because that would've been like 'oh boy, here we go again'," which again emphasizes that this isn't a generic film. It's really new territory for all concerned, looking effortlessly edgy with the action scenes energetic and cast well chosen. Gosling is perfect as the loner type, unsure of those around him but sure of what he wants to achieve. The new direction for him is another example of his diverse talent. Mulligan has just enough innocence and strength about her, while strong support comes from Ron Perlman as Nino, Albert Brooks as Bernie, Christina Hendricks as Blanche and the impressive Bryan Cranston as Shannon. Interestingly, Winding Refn and Gosling will reunite in even more Hollywood-ish surroundings on the set of next year's Logan's Run remake. Refn explained that "[Gosling] was the woman and I was the man of the relationship", so you can only wonder how that's going to turn out.
Verdict
Great casting and direction helps Drive retain a cult feel although having the possibility of extreme mainstream appeal.

Follow the author Katina Vangopoulos on Twitter.
Related Posts: