I approached Martin McDonagh's In Bruges under the guise of complete ignorance. I couldn't have even told you the genre of the film prior to seating myself in the cinema, let alone divulge a basic plot outline. The opening montage of brooding Gothic architecture, juxtaposed with a hauntingly bare piano composition, gave me the impression I was about to endure through a profoundly morose drama. However, I couldn't have been more wrong. If you are just as oblivious to the nature of this film as I was, then stop reading right now and, as long as you are not easily offended, just go see this truly special film. The supreme unexpectedness of In Bruges works towards proving that ignorance really is bliss.
Having just completed a hit, the crass and immature Irish assassin Ray (Colin Farrell) and his more level-headed partner Ken (Brendan Gleeson) are told they must lay low in the preserved medieval town of Bruges, Belgium. Awaiting further instructions from their profane boss Harry (Ralph Fiennes), the time allows the two Irish men to sightsee amongst the Gothic architecture and discuss the destructive affects their dark profession has had on their mentality. With bizarre encounters with local tourists, drug dealers and dwarves, the two habitually find themselves unable to obey their orders and stay out of trouble. A habit which doesn't impress Harry in the slightest, forcing him to take matters into his own hands.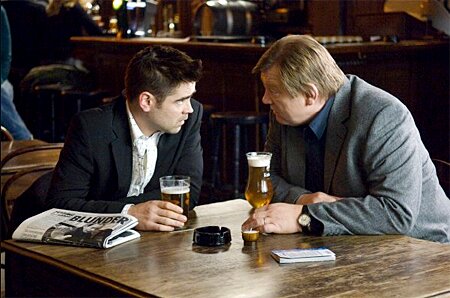 The word 'unexpected' is a severe understatement when regarding the narrative genius of In Bruges. In only his first feature length film, writer and director Martin McDonagh has managed to craft one of the year's freshest crime dramas. Seldom do I feel at the complete mercy of the director, failing to see nearly all of the narrative twists the film regularly employs. It's an exciting reminder that it is possible to create something truly unique in a cinematic age that is inundated with monotonous sequels and films where creativity is exclusive to computer generated imagery.
Filmed almost entirely on location, the unique Belgian town of Bruges is extensively explored by cinematographer Eigil Bryld. Often referred to as 'the Venice of the north' thanks to its extensive canal network and profound architecture that dates back to the middle ages, Bryld and McDonagh elaborate the' "fairytale" charm of Bruges, making it the perfect backdrop to the obscurity of the situations depicted. If you isolate the visuals, In Bruges would come across as a dark, disturbing drama that depicts some rather graphic and obscene scenarios. However, McDonagh's sharp, twisted script manages to turn even the most explicit of situations into bizarrely comical ones. The witty dialogue is laced with a dark sense of humour that is reminiscent of British sitcoms such as the hilarious Black Books where comedian Dylan Moran, akin to Colin Farrell's portrayal of Ray, depicts an immature and inane Irishman. It's comedy that certainly won't appeal to everyone, potentially coming across as crude and bigotry as the word "fuck" is frequently used as an adjective. But if you appreciate a dry and dark sense of humour as much as I do, then In Bruges will frequently have you in stitches.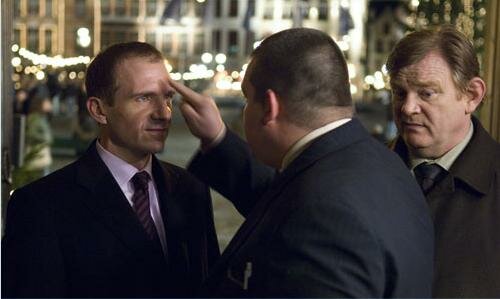 '
After his glaring mullet in Miami Vice (2006) proved to be more engaging than his actual performance, Colin Farrell comes out of left field to give the best performances of his career. Farrell provides his character Ray, a killer for hire, with a profoundly explored conscience and his forthright immaturity is consistently amusing thanks to his superb comic delivery. He drives the show up until Ralph Fiennes makes his grand entrance as the uncouth, morally twisted boss Harry. Every line is delivered with blunt perfection, never once missing a drop of potential comedy, making him easily the most likable bastard to take to the screen in recent memory. Whilst the remainder of the cast isn't comparatively as strong, they still manage to provide highly commendable performances. Brendan Gleeson is Ray's more rational partner Ken, providing a welcome stability to the zaniness of the situations, and the sassy Elizabeth Berrington is compelling as Ray's love interest Natalie.

Conclusion:
If you appreciate black humor, it would be criminal not to see this thoroughly original, impeccably acted and totally engaging crime drama. Get in a car, get into a cinema, and get In Bruges.

Follow the author Anders Wotzke on Twitter.
Related Posts: