As well as being the title, "A Film With Me In It" is also how I expect Dylan Moran would refer to his latest black comedy. I say this obviously because Moran is indeed in this film, but also because I cannot imagine the Irish comedian being anyone else other than the almost trademark character he continues to portray on screen. After gaining notoriety as bookshop owner Bernard Black in the brilliant British sitcom Black Books, Moran's perpetually drunk character quickly became the driving force of his live show as well as the only redeeming aspect of 2007′s Run Fat Boy Run. Now in this small time Irish film written by and starring Mark Doherty, Moran is back playing Doherty's alcoholic neighbour Pierce. It's a good thing, too; not only is A Film With… on par with last years In Bruges on the darkness scale, it also manages to be wildly funny thanks Doherty's outlandish screenplay and Dylan Moran being, well, Dylan Moran.
To go into the beef of the plot would be spoiling the fun, but I can say that the story revolves around unemployed actor Mark (Doherty) and his recovering alcoholic best friend Pierce (Moran), who likes to consider himself a screenwriter. Mark's girlfriend Sally (Amy Huberman) is fed up being the bread winner, living on next to nothing within their dilapidated house that has a shopping list of problems needing to be fixed by their landlord. Yet these tribulations become the catalyst for a series of insanely bizarre accidents that any outsider would see Mark responsible for. With no one else to turn to, Mark calls upon the help of Pierce , the two collaboratively solving the ever worsening scenario in the only way they know how: like it's all one big movie.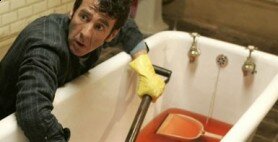 While the film takes a while to get into gear, the moment shit hits the proverbial fan, which it does quite spectacularly, the hilarity never lets up. The opening act foreshadows the impending doom; you quickly learn what's going to happen next, yet knowing is half the fun. A Film With… doesn't want to be taken too seriously as the absurdity of the situation is well publicised, if not simply from the endlessly obtuse camera angles that almost sees the cast slide out of each frame. Yet because you're somewhat aware of what's going to happen next, the completely unplausible chain of events are somehow given a sense of plausibility. The foreboding knowledge that things are going to get worse before they get better makes the film all the more enjoyable in an almost sadistic sort of way, as you can't help but revel in the manner of which the two protagonists respond to each new dilemma.
Of course, without the involvement of Moran and Doherty, who go together like Withnail and Marwood, their dilemma would simply be morose instead of hilarious. Both brilliantly use their expressionless faces to reveal their shock and bewilderment. Oddly enough, there is a genuine sense that these two people really exist. Moran portrays such a familiar character in Pierce, it almost feels like we've known him for years,  first meeting him back in Bernard Black's bookshop. For this reason, the ideas Pierce has for solving the problem at hand, however preposterous, feel like they truly belong to the mind of Moran. With such established characters, we ultimately care greatly for Pierce and Mark, which is a notable achievement considering they are both the very definition of losers.
Verdict:
A Film With Me In It is the perfect blend of black humour, absurdity and a name that covers both; Dylan Moran. I won't deny that this film is exactly my cup of tea, but like most black comedies, it certainly won't be for everyone. Yet it's a wonder why this film has such a limited release; the popularity of Black Books is underestimated in Australia, and A Film With… has the potential to gain a solid following from the show's large fan base and beyond.
A Film With Me In It was screened as a part of the 2009 Bigpond Adelaide Film Festival. Unfortunately, the film has otherwise not been released in Australia.

Follow the author Anders Wotzke on Twitter.
Related Posts: