From Errol Flynn to Kevin Costner and Cary Elwes, we've seen the story of Robin Hood in Sherwood Forest portrayed numerous times; a cinema favourite because of its endearing display of human nature – robbing the rich to feed the poor. The wonderful world of Disney gave us a comical and less morally correct animated version, while the recent BBC series had bounds of wit and charm. With that said, Ridley Scott definitely had a lot to live up to in successfully bringing a more dramatic side to the outlaw on screen.
The 2010 version takes us through the beginner's tale of how Robin (Russell Crowe) came to be leader of the Hood. There are many different versions of the folklore, but Scott immediately presents us with a slain King Richard, leaving the impetuous Prince John (Oscar Isaac) to take the throne. This character is so hateable it's ridiculous, but whether it's out of brilliant acting or the sheer stupidity of the man (which he's rightfully meant to be) is worth a laugh itself. More importantly, the famous relationship between the outlaw and his fair lady is a key factor in how Robin becomes to be a respected warrior, but as their matchmaking is sprung upon them by surprise and necessity it doesn't come to develop on screen with the time it deserves. The romance isn't why you would call this film epic, which is disappointing because it's such an integral part of the Robin Hood tale. With two Australians in Crowe and Cate Blanchett filling the shoes of such potentially interesting characters, at the 140-minute length their powerhouse talent is hardly utilised in their developing romance. What's frustrating is that the time that could've been well spent in this area is used for rather a lot of talking and not a lot of doing. However, Crowe presents a macho exterior that Scott has trained him well for (in their previous four films together), while Blanchett never struggles as the headstrong Maid Marian.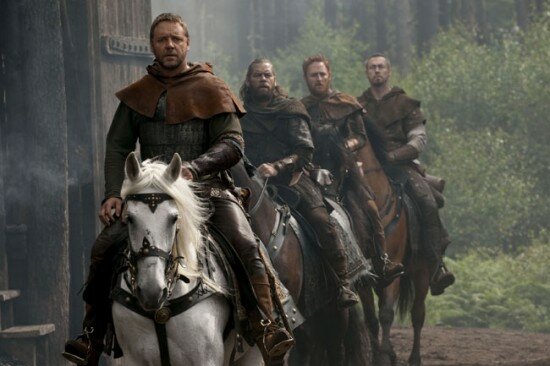 The Scott-Crowe collaboration (both director-star and co-producers) is worthy of Robin Hood; we certainly get a hero tormented by his dark past and lack of guidance. But the film gains the most brownie points in the battles – it's fair to call the film epic here because of the amazing effort put into wonderful scenes between the English soldiers and French invaders. The minimal CGI is impressive, and while Crowe might have his cheesy slo-mo moment, the climax of the film is the most interesting, drawing you back in from wherever you may have slipped with great cinematography from John Mathieson. Everyone wants to be involved here (even the now-King John would you believe) and it shows. However, while Mark Strong does well as villain Godfrey (based on love-to-hate character Sir Guy of Gisborne) and the Merry Men of Little John (Kevin Durand), Will Scarlet (Scott Grimes) and Allan A'Dayle (Alan Doyle) provide minimal comic relief; this is a showcase for the Aussies. It's interesting to think of how different Crowe and Blanchett's chemistry would've been had the original script of Nottingham gotten the go-ahead (centred on a love triangle between the two and the Sheriff). Perhaps that's because a lot of Robin Hood adaptations have had a black comedy side to them with strange personalities and different plots. That the story can change in almost every adaptation to date is intriguing in itself, and that could be a reason why this version feels flat. Dark, brooding and dramatic has worked in recent years with superheroes far and wide, but with an anti-hero like Robin Hood he does what he does to get a kick out of pissing off the rich guys. And who doesn't want to do that at some point?
Verdict:
Robin Hood v.2.010: good but not great. But the meatier story always follows the introduction right?
Win tickets to see Robin Hood! Enter our competition now.

Follow the author Katina Vangopoulos on Twitter.
Related Posts: