For once, the trailer for a new comedy — in this case David Gordon Green's medieval mockery Your Highness – didn't spoil the best bits. Unfortunately, that's because there aren't any.
In a series of firsts, Your Highness isn't just the first stoner comedy to exist without Seth Rogen, it might also be the first stoner comedy to exist without any comedy. With its unparalleled number of phallic references (I'm reluctant to call them jokes), this is the kind of juvenile dreck that could only amuse pubescent boys who have just discovered some hair-down-there and cannot help but giggle at the crude name for a rooster.
Your Highness is the brainfart of Danny McBride, the actor who has spent much of his filmic career buried in the credits of Hollywood comedies such as Pineapple Express and Due Date. One might assume that McBride, sick of being outshined, co-wrote Your Highness as a star-making vehicle for himself, or perhaps as an excuse to lock lips with Natalie Portman. But his delight is our derision, as Your Highness is an early contender for the worst film of 2011. (Little Fockers was last year, right?)
McBride plays Thadeous, the oafish pot-smoking son of King Tallious (Charles Dance; TV's Game of Thrones) who lives in the shadow of his dashing and heroic brother, Fabious (James Franco; 127 Hours).  Upon returning from a quest, Fabious announces his plans to wed Belladona (Zooey Deschanel; 500 Days of Summer), the virginal maiden he rescued from the clutches of the evil sorcerer Leezar (Justin Theroux; Mulholland Dr.). But before they can tie the knot, Belladona is kidnapped once again by Leezar, who needs her to complete the witchcraft ritual known as "The F*ckening". Long story short, he intends to rape her.  Hilarious, no?
So Fabious decides to go on an epic quest to save his wife-to-be, dragging his looser of a brother along for the journey. After a run-in with a pedophile (the laughs continue!), the two cross paths with Isabel (Natalie Portman; Thor), a sassy lone warrior seeking revenge for the slaying of her family.  She'll also be seeking revenge for the slaying of her once-promising career, too, if Portman keeps appearing in films like this.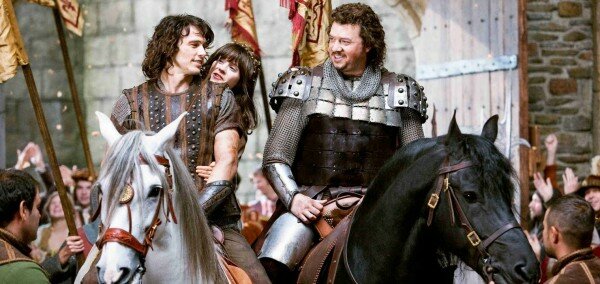 To even utter Your Highness in the same breath as the infinitely superior Monty Python and the Holy Grail is an insult to Great Comedy. (So please accept my apology, oh Great Comedy). Whereas Holy Grail employed terrifically absurd wit when lampooning history, Your Highness tries to milk laughs out of mixing naughty words with olde English dialogue. Apparently, a joke in this film consists of punctuating any regular sentence with an F-bomb, or simply alluding to someone's penis.  In other words, every 16-year-old boy is now, officially, a Hollywood screenwriter.
Look, I'm not adverse to lowbrow humour — I laughed considerably during the likes of Pineapple Express and Harold and Kumar go to White Castle — but regardless of how high you're aiming, you just can't expect the gags to write themselves.  You need a punchline; something that turns a detached phallic reference into an actual joke. Why does no one involved in Your Highness seem to understand this?
It's a serious question, because this was hardly a cheap film to make. Universal Pictures entrusted McBride and Co. with a cool $50 million to make this film, an amount I doubt they're going to make back. To be fair, the money doesn't completely go unnoticed as the sets, costumes and special effects are all up to scratch. But when screenplay is so severely lacking, you have to ask: why bother?  This potheaded idea for a film was not worth getting off the couch for.

Follow the author Anders Wotzke on Twitter.
Related Posts: