Spoiler alert: Focker sounds a lot like F*cker.
Good. Now that you know the sole punch-line of Little Fockers, you're without a single justiifiable reason to go see this abomination of celluloid. Here is a film that doesn't just take the once-tolerable Meet The Parents franchise down a step, it slips and misses the entire flight of stairs, breaks its neck upon impact and proceeds to bleed out all over the carpet. It's not funny, just painful.
Little Fockers limply recycles the same gags from the first film in a hope that we've forgotten them. After ten years, the situation has remained largely unchanged: male nurse Greg Focker (Ben Stiller) is still struggling to earn the respect of his insane ex-CIA father-in-law, Jack Byrnes (Robert De Niro).  In a bid to raise enough money to send his two kids to the 'Harvard of pre-schools', Greg is persuaded into doing some moonlighting by Andi (Jessica Alba), a sexy representative from a Viagra-like pharmaceutical company. All it takes is for Jack to confuse Greg's sneaking around for an affair and… viola! You have comedy gold.
Only you don't. This scenario is so fiercely unfunny, one must wonder whether the writers John Hamburg and Larry Stuckey were even aware that this was supposed to be a comedy. Then again, perhaps my definition of comedy is different to yours, so if a child projectile vomiting all over Stiller or De Niro's penis being jabbed with adrenaline is certifiably hilarious to you, then by all means, go get Focked.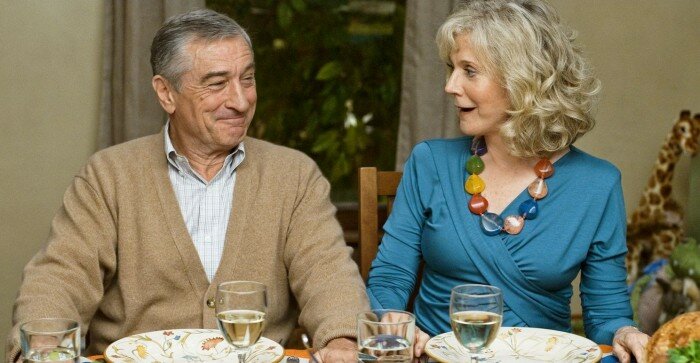 It's not like there isn't any talent involved. Hamburg is the writer behind the cult classic Zoolander, so you'd think he'd know better when it comes to feeding Stiller's wit.  Director Paul Weitz previously helmed American Pie and About A Boy, so you'd think he know a thing or two about handling escalating comedy situations and injecting a hint of sentiment. Then there's that remarkable ensemble cast – De Niro, Hoffman, Streisand, Danner, Keitel, Wilson – many of whom practically hemorrhage acting awards. Yet to say they've phoned in their performances is to give them too much credit. They've sent a Txt or a Tweet at best.
Of course, we all know why they're here; Ferraris don't pay for themselves. Still, it's tragic to see De Niro lay waste to his impeccable 20th century filmography with trite like this, not to mention Dustin Hoffman, who has such a minor role as Greg's amorous father, he may as well have saved himself the humiliation and avoided it completely. Because aside from Jessica Alba's lovely curves, there's really nothing good to say about Little Fockers. It's just one poorly staged situation after another, whereby the comedy seems optional.
Verdict:
Is Little Fockers the worst comedy of 2010? No it's not. But only because the label 'comedy' requires the movie to actually contain jokes. Schindler's List was funnier than this.
Author's Edit: I have received a few emails regarding the closing Schindler's List comment of this review, which some have considered to be anti-Semitic. Please know that this was not my intention; I have nothing but sympathy for those affected by the Holocaust. The logic behind the comment was to highlight just how deeply unfunny Little Fockers is by comparing it to one of the most depressing and unfunny films of all time, Schindler's List. I failed (quite spectacularly) to consider the various other ways in which this comment could be interpreted, and for that I sincerely apologise.

Follow the author Anders Wotzke on Twitter.
Related Posts: