It seems that Kevin Smith is getting a bit schmaltzy on us. With an accessible lead in Seth Rogen perhaps he thinks he can get away with it and appeal to the masses, a freedom he hasn't really yet experienced through his time as a filmmaker. Not that he's ever tried to reach maximum audiences – he's never given a rat's arse what critics say, and for the most part of his career it's definitely worked in his favour. Zack and Miri Make a Porno has just enough Smith comic genius complimented with a more accessible story than anticipated.
First, a warning: it's not for the prudish types. That was proven when the poster had to be changed to prevent more complaints (the resulting stick figures poster is a mocking on Smith's behalf). Plus it's obvious, just read the title. This is a film that delivers all pre-viewing expectations regarding the plot. Two best friends, Zack (Rogen) and Miri (Elizabeth Banks) are financially troubled and decide to make a porn film to make the necessary cash. Rounding up the cast is easy enough, but it's once the cameras start rolling that tension surfaces and it becomes clear that not everyone is as comfortable as they seem. It takes a bit of time to get there, but once the shooting begins the biggest laughs and most awkward moments come out – and it's worth the wait.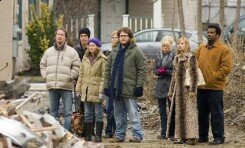 Smith has never been one to shy away from anything and that certainly hasn't changed. Because of the comic nature, the nudity scenes are more cringe-worthy than hardcore and all the credit is due to the supporting cast (Katie Morgan as stripper Stacey and Smith's compatriot Jason Mewes as Lester particularly). Even Rogen jokes at his own suspense that his nudity would do no service and as such we aren't subjected to the titular characters that intimately. However, in Smith fashion the same can't be said personality-wise. He seems to have a knack for giving us the crudest of stories with such likable characters, and Zack and Miri… really takes on its own as we get to know little bits about the characters throughout the filming process. From different walks of life, amidst their working environment they become a close bonding group. The relatable angle is usually unexplored by Smith, but it works in his favour here, making Zack and Miri… a more accessible film to a wider audience.
Let's not forget, the names do play their part. Seth Rogen's Zack is, as Miri points out to him mid-film, more ambitious, and there are moments that differ to his roles of the past 12 months. Banks presents Miri as an emotional character quite convincingly and from the two there's a nicely balanced chemistry. The only weak link in the supporting cast (well, character in general really) is Zack's Indian boss Mr. Surya (Gerry Bednob) – the main bunch are truly the glue of the film, while cameos from new 'it-man' Justin Long and Superman himself Brandon Routh result in some of the film's funniest moments.
Zack and Miri… is neatly done. Music and camera movement are tools not to be used lightly and Smith has had enough practise in utilising these. He hasn't lost his grip on pop culture, always using relevant music in pivotal scenes that really shape the film. His timing is good, slowing things down with the camera to momentarily relieve the film of its heavy content before pulling you back into what you really paid to see. Who said he ever needed to listen to the critics?
Verdict:
Within the vulgarity, Zack and Miri… is a film that looks at itself and asks 'what am I doing with my life?!' A more emotive watch than anticipated, this comedy very strangely gets the mix right.
See here for Anders Wotke's review on Zack and Miri Make a Porno.

Follow the author Katina Vangopoulos on Twitter.
Related Posts: