Rabbit Hole, let it be known, has nothing to do with the fantasy world imagined by Lewis Carroll. No, it's firmly planted in the harrows of the real world, where a middle-class American couple mourn the tragic death of their young son.  What results is a delicate, deliberated and often demoralizing portrait of how we grieve, although one that (thankfully) isn't quite as unrelenting as you might think. Akin to the optimism found in Lee Daniel's triumphant Precious, there's a light at the end of Rabbit Hole that makes this tearful trek worthwhile.
Justly in contention for the Best Actress Oscar, Nicole Kidman (Australia) gives it her all as Becca Corbett, who along with her husband Howie (an equally exceptional Aaron Eckhart; The Dark Knight), struggles to come to terms with the fact that her four-year-old son, Danny, is gone. The two attend group therapy sessions, but Becca can't handle the "God talk" from those who believe that their loss is part of some divine plan. To her, that's just nonsense; no child is fated to die. Yet without belonging to a Church, or an institution to nurture her heartache, Becca receives little relief from her grief. Her concerned mother (Dianne Wiest; Passengers) tries to offer advice given that she too lost her 30-year-old son Arthur to a drug overdose, but Becca doesn't want a piece of it. She believes her loss is incomparable; Danny was still pure, she upholds. Unlike Arthur, he didn't bring it upon himself.
Howie, meanwhile, has his work to keep his mind occupied and copes with the pain far better than Becca, who spends her days home alone, manically cleaning the house in order to hide any evidence that Danny was once there. Becca's grief is stuck at a difficult crossroad; part of her can't stand to keep him around, part of her can't stand to let him go.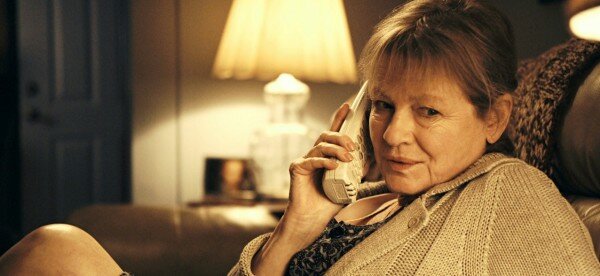 Interestingly, Rabbit Hole begins months after the fateful accident, so we're never actually introduced to Danny beyond a few fleeting flashbacks and photographs, nor do we see how different the Corbett's were before tragedy struck. It's a risky way to begin, as without being given the opportunity to share in what they once had, it can be difficult to truly comprehend what they've now lost. Yet through the care and consideration of David Lindsay-Abaire's writing, we connect with the Corbetts immediately, never doubting that they existed well before the cameras started rolling. In fact, it feel as though we've know these people for a lifetime.  They could be our family, our friends or our neighbours. Heaven forbid, they could be us.
Renowned for his highly provocative films such as Hedwig and the Angry Inch and Shortbus, director John Cameron Mitchell is perhaps the last person you'd expect to be handling such sensitive material, yet he proves his elasticity by demonstrating considerable restraint. Too often films of this nature will go to great lengths to elicit our sympathy by dishonestly intensifying the emotional journey for the screen – think Will Smith's histrionic Seven Pounds — yet Mitchell keeps things relatively low-key, allowing the Corbetts ample time and space to satisfyingly work through their grief in their own terms. While the emotions are genuine, the film is noticeably theatrical in its staging — particularly in the limited character movement and abundance of monologues — which is a residual effect from the fact that Lindsay-Abaire adapted the script from his own Pulitzer-prize winning play. But when the dialogue is this honest and performances are this nuanced, it hardly comes at the cost of credibility.
Nevertheless, it takes a certain type of moviegoer to willingly sit through a film about insufferable grief, regardless of how thoughtfully it's handled. But should that moviegoer be you, Rabbit Hole will leave your eyes raw and your heart warmed.

Follow the author Anders Wotzke on Twitter.
Related Posts: