There is simply too much truth to the heartbreak of Blue Valentine for it to not come from a deeply personal place. If writer/director Derek Cianfrance hasn't lived this profoundly moving story about a crumbling marriage blow for blow, he most certainly knows someone who has. In fact, we probably all do. That's what makes Blue Valentine so authentic, so poignant and so haunting.
It's the sublimely nuanced performances of the two leads Ryan Gosling (Fracture, The Notebook) and Michelle Williams (Shutter Island, Brokeback Mountain) that sell the earnest bevy of emotions being explored. Cutting between a six year gap of past and present, the two performers showcase their controlled range by playing two different sides of their characters Dean and Cindy; the first is when the young couple fall madly in love, the second is where they tragically begin to fall out of it.
These are real, everyday people. Dean is easygoing blue-collar worker, while Cindy is bubbly college student with aspirations of becoming a doctor. As with all urban dramas, they each have domestic issues; Dean's mother walked out on him, while Cindy's father (John Doman) is abusive. Regardless, they're both kind and compassionate individuals, which is significant because it means we're not inclined to pick sides. They're seen as equals; neither is too good for the other. Perhaps that's the reason why we so desperately want their relationship to work.
And for a while, it does. The chemistry between Gosling and Williams during the honeymoon period of their relationship is so casual and natural. After meeting each other for the first time, a smitten Dean tells his colleague that it felt like he "already knew her." It feels that way to the audience, too. The two stars truly immerse themselves in their roles, unearthing the very soul of their characters.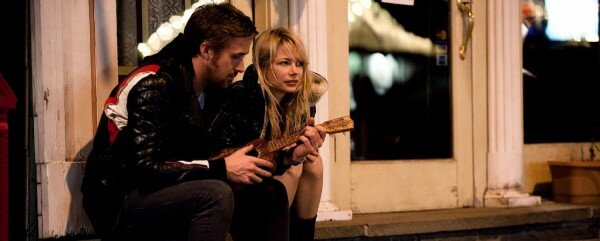 These good times help to somewhat elevate the incredible heartache we share with the characters during the bad times, which are explored some six years down the track. Now married and decidedly more mature in both nature and appearance, most of their love is channelled through their beautiful daughter, Frankie (Faith Wladyka). In an effort to revive their marriage, the two head off for a night alone to a space-themed sex motel room. On the way there, Cindy bumps into an old high-school flame the sets off Dean's temper as well as one of the film's most dramatic sub-plots. The cross-cutting between then and now, although sometimes confusingly edited, gradually reveals the remarkable intricacies of these characters and helps us to understand why they are the way they are. Do not underestimate the quality of writing needed for audiences to be able to get this close to the characters.
The auxiliary characters, however, are not as well drawn. The unseen years between past and present means the subtext involving Cindy's disapproving father does not evolve in any meaningful way, while the odiousness of Cindy's ex-boyfriend Bobby (Mike Vogel) is a tad too palpable.
Still, the film's tagline "Nobody baby but you and me", a lyric from Dean and Cindy's relationship song, says it perfectly; when Gosling and Williams on screen, nobody else matters. If not Oscars, they will win over your heart.  And possibly break it.

Follow the author Anders Wotzke on Twitter.
Related Posts: