Steven Soderbergh's had a busy 2009, first with the release of Che (parts One and Two), and then The Girlfriend Experience. His latest is The Informant!, different in style to both of these films but with a similar theme (of a human just trying to make their way in the world). To be a whistleblower and rat out your employers is a big ask on anybody; people like Erin Brokovich won their cases with no direct connection to the company they sued, but Mark Whitacre chose not to accept the behaviour of his workplace. Like Brokovich, he appeared to do it out of sheer goodwill – but this film tells us that even people that try to do the right thing often get caught up in something beyond their understanding.
Based on the true story (written by journalist Kurt Eichenwald), Mark (Matt Damon) chooses to become an informant for the FBI on a price-fixing scandal within the multi-national corporation Archer Daniels Midland (ADM). As a Vice President, he undertakes two and a half years of service in providing the FBI with information about ADM's dealing with Asian clients – but only after encouragement from wife Ginger (Two and a Half Men's Melanie Lynskey). But this isn't your average 'mole' story. Not when the key witness keeps changing his story and sharing secrets with all kinds of people – one example being the lawyer assigned to him by the employers he's fighting against. Mark can't make up his mind about anything and often jeopardises the very investigation he helped to start, and this is what gives The Informant! an edge. Much of the entertainment comes from how Mark copes with the pressure to come up with evidence, and the fact that he can't tell the complete truth manages to be irritating and compelling at the same time. He has such a strong belief that he is not in the wrong and believes his job to be safe at the end of the investigation, but as the story develops we find out that he's not only what meets the eye and we question what people consider theirs to be deserved.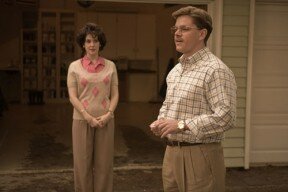 The Soderbergh-Damon team has been honed and crafted into a viable investment; Soderbergh knows how to get the best out of Damon, who is interesting as Whitacre, always trying to see himself as the good guy. It's almost a one-man show as he takes centre stage; having chubbied up for the role it's hard not to notice, but Scott Bakula and Joel McHale also stand out as the FBI team too often perplexed by Mark's changing story. Soderbergh creates an easier understanding for the audience with clever narration, truly containing some of the film's funniest content. It gives us a background to Mark and allows us into the thought processes of this quirky man. Intriguingly, the 1990s-based story is given a 1970s cop show feel, complete with cheesy music, drab settings and daggy characters. It's not a film that stands out on screen, but it's clever enough to keep you entertained and curious about what draws people to do what they do for personal benefit.
Verdict
Surprisingly funny, Soderbergh's interesting direction about a peculiar man gives The Informant! a thumbs up.
[Rating: 3.5/5]

Follow the author Katina Vangopoulos on Twitter.
Related Posts: