So much is put on young twenty-somethings to find their perfect match and settle down, but in a world where they're positioned by their ranking (yes, that's right), it presents a real challenge. Having little direction in life and being told you're only a 'five' out of ten surely couldn't be doing you any favours. Even so, when Kirk (Jay Baruchel) finds himself in contact with 'hard 10' Molly (Alice Eve), sparks seem to fly – and pigs too.
The world is turned upside down when the young airport security guard meets the girl of his (and apparently everyone else's) dreams. We're told by Kirk's best friend Stainer (T.J. Miller) that something has gone wrong with the universe – 'Hard 10's can't go any lower than eight, it's just not natural!' – and no-one believes that their relationship is for real. But at the centre of it all are two people that don't want to get hurt and find solace with each other. While that paints a pretty sugary picture, She's Out Of My League comes to represent the emergence of the crude comedy without an overload of the crude. Sure, there's enough of it in there to make an impact (a bathroom scene with Kirk and other BFF Devon (Nate Torrence) alludes to plenty without the nasty image), but the story relies on the strength of the characters and effectiveness of the comedy to keep it going. And for the most part it works.
There are a lot of industry connections within the film; Baruchel and Miller are co-voicers in How To Train Your Dragon, Miller and Mike Vogel (playing the fourth of the gang Jack) co-starred in Cloverfield, and writer Sean Anders is familiar with the genre, having also scripted and directed that other downplayed 'crudy' Sex Drive. She's Out Of My League is much in the same vein as that film, where most of the key actors share the spotlight in their biggest film yet. And they do a good job of it. Director Jim Field Smith gets the boys at their best in the group sequences. Miller as Stainer bitches and moans about Kirk's bizarre on-off relationship with Marnie (Lindsay Sloane), while Nate Torrence as Devon – the jolly married one – relates much of life to those of Disney characters. They 'rate' themselves and accept where they stand, and really set themselves up with a bit of bromance in supporting Kirk along his quest to keep the girl.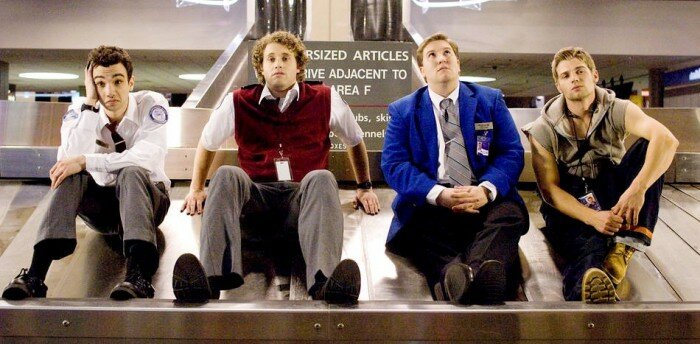 As many comedies or 'crudies' are nowadays, there's not much in terms of shocking storylines or interesting plot twists. However, Field Smith has fun with the film, not taking itself seriously and letting the story run its course. While the ending might be dramatically typical, the ride before is entertaining and amusing. Baruchel is so awkward as Kirk; his skinny frame partly responsible, while Eve presents Molly as a strong, beautiful woman. Not a dumb blonde by any means. She's Out Of My League does have its less comic moments (and a moral or two to boot), but the eccentric nature of Kirk's family and friends make the film comical. Kirk's home situation is bizarre yet believable; we see so much dysfunctionality around that really, anything's possible now. The idea is to let go – and here, that option's a no-brainer.
Verdict:
She's Out Of My League works because the concept of not being good enough crosses everyone's mind. You will realise you're giving yourself a rating at some point.
[Rating: 3.5/5]

Follow the author Katina Vangopoulos on Twitter.
Related Posts: