What the Italians call 'the Moccia phenomenon' has taken their country by storm, where Mr Federico has made a huge name for himself by writing best-selling novels and then writing/directing the film versions to huge success. Two examples came to Australia as part of the Lavazza Italian Film Festival in 2010, including Love 14; a teenage romance with a bit of flair and a whole lotta drama.
The story is basic enough: Carolina (Veronica Olivier) is 13 when she finds Massi (Giuseppe Maggio), the boy (of her dreams, duh), loses contact with him and tries to reconnect. Not even technology can help her in the present age; she stumbles through the most part of a year (including her 14th birthday) pining over their precious day together. Yep, one day. But as you can remember – or would surely rather forget – that's what you do at 13. Surprisingly juxtaposed with this is the story of her older brother Giovanni aka Rusty James (the striking Raniero Monaco Di Lapio); unhappily following his father's wishes when he really wants to write and also weighed down by love and its heartache. What Moccia blatantly tries to show is that while Giovanni might be 20, it's hard to grow out of the feelings gone through as a teenager; there are always other distractions, but an underlying want for what's escaped you. Everyone's been there and Moccia draws on this to create a basic story that's somewhat been numerously repeated. The morals are positioned quite obviously – but they don't overthrow the fun that this film manages to create for itself. Carolina's two best friends (Beatrice Flammini and Flavia Roberto) are prime examples of the teenage stereotypes – the princess and the excessive eater, both with their own stories to share, and the group's curiosity for information is heavily drawn upon.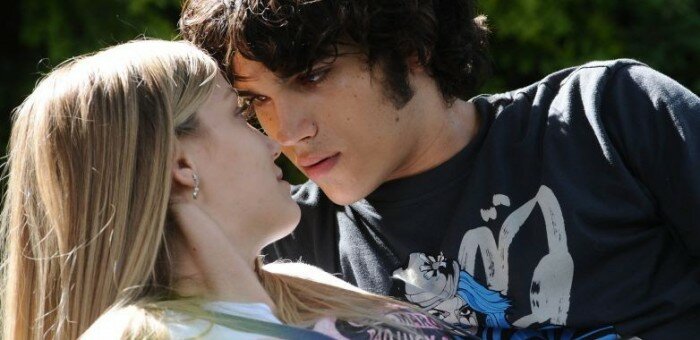 Moccia doesn't shy away from modern Italian norms; it seems they're much more relaxed than 13-year-olds elsewhere. And they (try to) act much older than their minor years. Love 14 is funny because of its frankness, and he understands well that comedy lessens the strain of touchy areas (no pun intended). To break it up, the juxtaposition with Giovanni's drama creates a complete paradox – which becomes distracting as the film progresses, yet in some way equally intriguing. While the outcome is more or less predictable, the film gives more than just cheap laughs because of its genuine feel. Oh, and a look into some crazy stunt-wannabes via the Web. The direction's fairly straightforward – Moccia mixes it up a bit with monologues and narration from Carolina, which at times are clearly out of place. Olivier as Carolina is meek but determined, while di Lapio's come a long way from his Grande Fratello days two years prior and Roberto as eater Clod provides cutesy-but-not-sickly comic relief. Love 14 gives more than you bargained for within the obvious… it's a time most would rather never re-live, but serves as a reminder that love is always affecting in one way or another. Trust the Italians to want to tell you this.
Verdict:
An interesting juxtaposition in Love 14 makes for an entertaining insight into the Moccia phenomenon.
Love 14 screened as part of the 2010 Lavazza Italian Film Festival  across Australia.

Follow the author Katina Vangopoulos on Twitter.
Related Posts: