Like many cartoons from the golden age of animation, Hanna-Barbera's Yogi Bear had a simple TV-friendly premise: a talking brown bear named Yogi and his reluctant companion Boo Boo endeavour to steal picnic baskets in the wilderness reserve of Jellystone Park — a riff on America's famous Yellowstone Park — while the irritable Ranger Smith tries to stop them. The inevitable big screen adaptation, directed by Eric Brevig (Journey to the Centre of the Earth), contorts this basic premise into a family-friendly feature that blends live-action with digital animation, not to mention Hollywood's latest gimmick, 3D. And to no one's surprise, it disappoints; Yogi Bear is bland, unfunny and mostly joyless. Compared to quality animated alternatives such as Tangled and Megamind, Yogi is unBearable.
To its credit, the film gets the most fundamental element right; the characters of Yogi Bear (Dan Akyroyd; Ghostbusters) and Boo Boo (Justin Timberlake; The Social Network) are surprisingly well personified. They're capably animated, but more importantly, expertly voiced. Both Aykroyd and Timberlake are pitch perfect as the scheming bears, capturing not only their memorable voices but also the comical nature of their characters.
It's such a shame, then, that the movie fails on almost every other level. The uninspired narrative is plagued with poor plotting and shoddy execution,  made all the more disappointing by the odd decision to scarcely follow the exploits of Yogi and Boo Boo at all. Instead, it focuses more heavily on Ranger Smith, a character reduced to a whining introvert by the three screenwriters and actor Tom Cavanagh (Bang Bang You're Dead). Smith's struggle with the nefarious Mayor Brown (Andrew Daly; Life As We Know It), who wants to sell Jellystone, takes center stage, along with his budding romance with Rachel (Anna Farris; Paul Blart: Mall Cop), a documentary filmmaker determined to preserve the park. Subsequently, Yogi and Boo Boo are reduced to sporadic comic relief.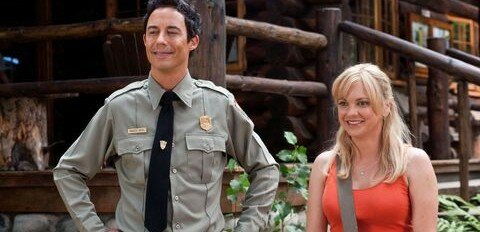 It doesn't help that these human characters are incredibly dull, let down by insipid characterisation and poor performances. The lone exception is Andrew Daly, who does his best to create a humourous character out of Mayor Brown despite the vigorously unfunny script. Under Brevig's patchy direction, most of the strained, awkward jokes fall flat; there was little laughter to speak of within a cinema packed full of families. A few entertaining moments of slapstick are intermittently littered throughout — somewhat aided by the in-your-face 3D — but none are executed to their full comedic potential.
Through a variety of crucial miscalculations, Yogi Bear fails to capture the charm and humour of the original cartoon, resulting in a substandard kids film that abuses its titular character by forcing him to take a backseat to bickering humans.  The choice to animate the bears but not the rest of the film is also a peculiar one, as Yogi and Boo Boo don't quite fit seamlessly within the live-action environments. It leaves one to ponder whether the entire film could have benefited from being CGI, which at the very least, would have better respected the source material.
Of course, the most respectful act would have been to honour our fond memories and not have made the film at all.
Related Posts: