It's hard to imagine that I'll see many other films this year as morally complex or achingly real as Asghar Farhadi's A Separation [Nadir and Simin, A Separation]. Winner of Best Picture Awards at numerous international film festivals including Sydney, Berlin and Fajr in its native Iran, the film is an intimate drama about conflict within and between two families of vastly different social and economic standings. Superbly written, acted and directed, the film is understated, poignant and captivating from scene one, and weaves a tale of sublime tragedy that grips you with the greatest of ease.
To reveal too much about the story would be a disservice to the film, one where the plot is progressively revealed over a series of sombre twists and turns. The film begins with Nadir and Simin (Peyman Moaadi and Leila Hatami), a married couple arguing furiously in the presence of a judge. The wife wishes to leave Iran and take their daughter (Sarina Farhadi) with her, while the husband, the only caretaker of his invalid father, feels morally obligated to stay. Once the judge grants them a divorce, the wife moves back in with her mother, forcing the husband a hire caretaker maid, a deeply religious woman named Razieh (Sareh Bayat) who is often at the mercy of her own angry, unemployed husband Hodjat (Shahab Hosseini). Soon afterward, a terrible misfortune strikes, embroiling all parties in a legal battle that threatens to drive both families further apart.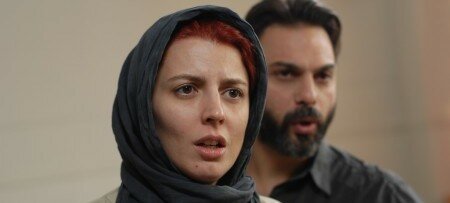 Every aspect of A Separation is perfectly handled by writer/director Asghar Farhadi, who creates family dynamics and scenarios that feel completely true to life. The dialogue rattles back and forth across living rooms and in the offices of over-worked judges, as victims and witnesses tell their own version of what exactly caused the catalysing tragedy. In between these rapid fire exchanges are scenes between husbands and wives, parents and daughters, which brim with restrained, believable emotion and never once push over into melodrama. The cinematography is likewise wonderfully controlled, never obtruding, slowly drawing audiences in to the gradually unfolding drama.
All of the performances in the film are subtle but memorable; each actor brings to life a character with their own personal motivations, hopes and reasons to be dishonest. Without a clear understanding as to the exact truth of the matter – if there even is such a thing as an objective truth – the audience is forced to draw their own assumptions as to where their sympathies lies; which people they believe and what consequences should befall them. Some viewers may side heavily with one family or the other, while others sill conclude that there are no criminals, only victims, in this heartbreaking and unlucky affair. For Western audiences, the film also documents – without overtly critiquing – the role of religion, and the power dynamics between men and women, in contemporary Iranian society.
Even when an answer and a judgement are eventually delivered, there is no definitive outcome to A Separation, as each character must live on with the guilt and justifications of what they did, did not or may not have done. For audiences, the film is an ethical and emotional drama that will stay with you for days. A masterpiece of intimate, dramatic filmmaking; an absolute must see.
—
Tom Clift is a web-based film journalist from Melbourne, Australia. Visit his website here: http://reviewsbytom.blogspot.com.
You can read all of Tom Clift's coverage of MIFF 2011 here.


Follow the author Tom Clift on Twitter.
Related Posts: