For a film that has all the inner workings of a generic sports movie, Whip It somehow avoids being one. Narrative wise, it's as cliché as it gets; absent-minded protagonist finds purpose in an unlikely sport, joins an underdog team against the will of their parents and eventually edges their team into the finals. We've seen it countless times before, but Whip It has something going for it that most other sport movies don't; sheer, unbridled girl power. No, the sport in question is not dancing, figure skating or cheerleading. It's the fierce, competitive world of women's roller derby.
It's exactly the kind of movie you'd expect Drew Barrymore would pick for her directorial debut.  Despite recently appearing in a slew of rom-coms, the actress has long been a post-feminist poster girl, playing headstrong heroines in films like Poison Ivy and Charlies Angels.  Now that she's behind the camera, Barrymore has passed the torch onto Ellen Page, who in her first leading role since 2007's acclaimed indie drama Juno, stars as 17 year-old Bliss Cavendar.
Bliss is unhappily living her mother's (Marcia Gay Harden) dream as a pageant beauty queen, unable to let her mascara-loving alternative side out of the bag in her small, isolated Texas town. When Bliss learns of the Women's roller derby league in a nearby city, she secretly heads off to catch the action with her best friend Pash (Arrested Development's Alia Shawkat). She instantly falls in love with the sport, which sees waitresses and nurses by day battle for glory on the rink by night under pseudonyms like Maggie Mayhem (Kristen Wiig) and Smashly Simpson (Barrymore). Despite being under age — a plot point that you know will come back to haunt her later on — Bliss signs up to a team called the Hurl Scouts after showing unmatched speed on the rink during trials. As she becomes more and more involved with the league and her aspiring indie-rocker boyfriend Oliver (Landon Pigg), keeping her alternate life a secret from her parents becomes a near impossible task.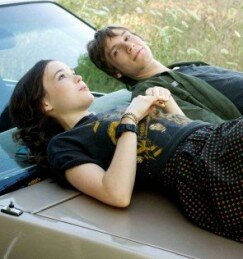 Whip It essentially takes the tom-boyish attitude of Bend it Like Beckham and moulds it around a tried-and-true Mighty Ducks structure. The message here is one worth disseminating amongst teenagers, as it suggests that you can be an autonomous soul without being a menace to society, or disrespectful to your family. It might be contained  within a traditionally syrupy Hollywood formula, but Barrymore does well to keep the material grounded; even the 'big game', for example, takes place in a run-down warehouse and not some grand stadium.  The league matches are exhilarating to watch at the hands of cinematographer Robert Yeoman, who moves the camera around the rink fast and fluidly without rattling our brains.
The drama that takes place in-between the action is highly predictable, but surprisingly convincing, which is a credit to the strong performances by everyone involved. Ellen Page is a delight, thankfully toning down her overly nuanced performance in Juno to more authentically portray a modern, alternative teenager. Page's romantic subplot with newcomer Landon Pigg (a real world musician) might be unnecessary to the core story, but it's handled so amiably, it makes for a welcomed diversion. Elsewhere in support, Kristen Wiig has a slight but important role as Bliss' mentor Maggie, Marcia Gay Harden masterfully balances the task of the overbearing but caring mother and Jimmy Fallon provides a majority of the laughs as the league's announcer. The only cast member hard done by is Juliette Lewis as opposing team captain Iron Maven, who comes across as being nasty just for the sake of it.
Whip It won't be one of 2009's most memorable films, nor can I see it reigniting the roller derby fad of the 70s. It is, however, a light, crowd-pleasing film that kicks off a promising directorial career for Drew Barrymore, the queen of grrrl power in Hollywood.

Follow the author Anders Wotzke on Twitter.
Related Posts: