With their latest outing True Grit, Joel and Ethan Coen (A Serious Man, Burn After Reading) appear to be taking a well-deserved break from being themselves. As a straight shootin' Western, their 15th feature is largely without the wordy and wry dialogue, exaggerated characterisations, richly satirical scenarios, and graphic violence that characterises much of their impressive filmography. But who said that's a bad thing? True Grit is easily their most accessible film in years, and although it mightn't be Coen in quirk, it certainly is Coen in quality.
Jeff Bridges, Matt Damon and Josh Brolin each receive top billing in this confidently told and capably performed Oscar hopeful, yet the real star here is newcomer Hailee Steinfeld. With the kind of presence and poise you'd expect only from a screen veteran, 14-year-old Steinfield fills the boots of pint-sized protagonist Mattie Ross impossibly well. Akin to Jennifer Lawrence's determined teen character in Winter's Bone, Mattie is incredibly astute and resolute for her age – it's a joy watching grown men stumble for words when pitted against her swift tongue. After Mattie's father is murdered at the hands of a criminal known as Tom Chaney (a barely-seen Brolin; Wall Street 2), she hires notoriously ruthless (and often drunk) U.S. Marshall Rooster Cogburn (Bridges; Tron: Legacy) to track him down and bring him to justice. Mattie insists on coming along for the ride, but so does La Boeuf (Damon; Invictus), a proud Texas Ranger who has also been hunting down Chaney for months. The trio set off on a treacherous journey across the sun-drenched vistas of Richard Deakin's sprawling cinematography, where scoundrels, snakes and shootouts await them.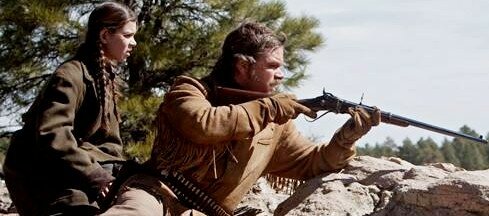 As a faithful adaptation of the Charles Portis' popular 1968 novel of the same name – rather than a remake of the subsequent John Wayne movie – the Coens have forgone the temptation to turn True Grit into something more eccentric, or 'Coen-esqe', in nature by retaining much of the novel's original dialogue and plotting.  While this does mean the film is considerably more conservative than the likes of Fargo or No Country for Old Men, it's to no real detriment, as True Grit's bare-boned vengeance narrative benefits from being, well, gritty and straightforward. Had the story been too heavily plotted, the understated bond that forms between Maddie and Rooster would have been overshadowed. Had the script contained too much satirical banter, these old-timey characters would have come across as too modern. With its wholesome simplicity, True Grit is exactly the kind of classic Western we seldom see any more — a welcome reminder that, despite cowboys being replaced by Jedis and super spies in Hollywood, the spirit of the Wild West is still alive and kicking.

Follow the author Anders Wotzke on Twitter.
Related Posts: