Let's be honest; Kasey Chambers' 2002 smash-hit single 'Not Pretty Enough' was always a little creepy. But the stuff of nightmares? Well, it certainly is now thanks to Sean Byrne's grisly Aussie horror The Loved Ones, one seriously slick and sick torture pic in which hot pink is the new blood red.
Tenderly crooning Chambers' tune is submissive teenager Lola (newcomer Robin McLeavy), more than a little crestfallen that she hasn't a date for the school dance. And it's not because she's not pretty enough. No, it probably has more to do with the fact that Lola, in-between playing with Barbie dolls and doodling love hearts in her diary, has a fondness for drilling holes into people's skulls. But only the skulls of boys she really likes…
So have a little sympathy for Lola's latest crush, Brent (Xavier Samuel; Twilight Eclipse). A bottle of bleak emotions, Brent hasn't exactly been his cheeriest since surviving a car crash that killed his father, but things have been looking up lately thanks to his bubbly and loving girlfriend Holly (Victoria Thaine). She's set to be his date for the upcoming school prom, but that doesn't stop Brent's secret admirer, the seemingly meek Lola, from trying her luck. Although Brent politely turns her down, Lola isn't about to take no for an answer, kidnapping him for a special prom of their own set up in her kitchen. Lola's sociopathic father Eric (John Brumpton) has spared no expense for his little "Princess", decorating the kitchen with all the usual party supplies: balloons, disco balls, glitter, syringes, hammers, drills…
I'm not usually one for such excessive displays of violence, but The Loved Ones distinguishes itself from its torture-porn brethren by placing its retro horror elements within the framework of a compelling teen drama. The first act could easily be confused for a film by the late John Hughes given its authentic treatment of teenage angst, a testament to Sean Byrne's carefully considered screenplay and confident direction – impressive for a feature debut. Almost without notice, the film snaps around the 20-minute mark, spiralling into a squeamishly self-aware bloodbath in which Lola, superbly portrayed by Robin McLeavy with hellish zeal, reveals her ambition to be the next Hannibal Lecter. While I'm not convinced she'll be remembered as a horror icon, Lola is still a brilliantly creepy creation.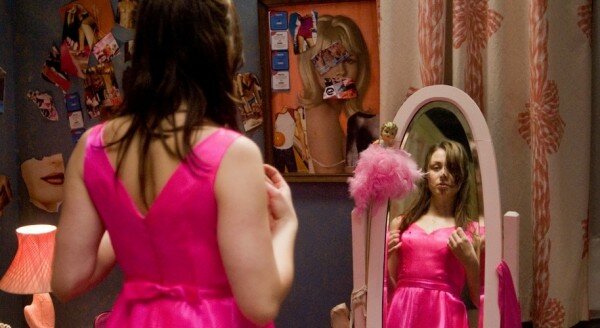 Aside from one bizarre twist late in the second act, it's easy to see where the film is heading, but it's to no real detriment given Byrne's ability to immerse his audience in the moment. The gore is relentless, constantly one-upping itself with sick, inventive methods of torture – you'll never look at a kettle the same way again – yet the film's twisted sense of humour helps ease the pain, while Xavier Samuel's sympathetic performance keeps us completely invested in Brent's bid to survive. Adding an element of real horror, the surreal virtues of the torture scenes are cleverly juxtaposed with the very real, very harrowing search for Brent occurring within the community by Holly and the town's sole police officer (Fred Whitlock). This plays out alongside another, largely disparate subplot involving a Goth couple attending the school prom, instead opting to get drunk and high in the parking lot. Given how little it adds to the main story, it's a weak link in an otherwise tightly strung horror film well worth losing sleep over.
Australia mightn't produce too many action heroes, but between SAW, Wolf Creek and now The Loved Ones, we're a great source for mass-murdering psychopaths. Tourists, be wary; they now come in pink.

Follow the author Anders Wotzke on Twitter.
Related Posts: