The Eighties; a decade where everyone dressed like a highlighter, Michael Jackson was still black (not to mention alive) and time travel required a souped-up DeLorean. Unsurprisingly, Hot Tub Time Machine doesn't miss a single opportunity to poke nostalgic fun at all of the above when taking a trip back to the disco decade. Surprisingly, though, it's actually pretty  funny about it. Like Old School and The Hangover before it, Hot Tub Time Machine is the kind of adult comedy that proudly flaunts its stupidity and somehow comes out all the more endearing because of it.
Just in case the title didn't make it clear enough, here's the setup. The titular Hot Tub inexplicably transports three miserable middle-aged friends — Adam (John Cusack), who continually gets dumped on by girlfriend after girlfriend; Nick (Craig Robinson), who loathes his job as a dog groomer; and Lou (Rob Corddry), a teenager stuck in a balding man's body – along with Adam's geeky nephew Jacob (Clark Duke) back to 1986. The three friends appear to everyone else as their teenage selves, while Jacob, who has theoretically yet to be born, looks just as he does in 2010. Jacob fears that if the others don't repeat events exactly as they happened the first time round, it could cause a butterfly effect and the future might drastically change for the worse (or as he eloquently explains it "you step on a bug, and the f***in' Internet's never invented!"). However, the guys start trying and fix their past mistakes instead of repeating them, hoping that their future lives will improve as a result.
This results in string of clichéd sub-plots that it seems no time travel move can possibly be without: Adam decides to go after the girl he let get away, Lou stands up to the bully who demoralised his confidence and Nick reunites with his high-school band and claims some future hits as his own. Unlike the entertaining randomness of The Hangover or Dude Where's My Car?, Hot Tub follows a tried and true formula that it seldom deters from.
But so long as it's funny who really cares about the plot, right?
Damn straight. It's frighteningly easy to dismiss nearly all of Hot Tub's glaring flaws – including some noticeably tacky production values — purely because it's frequently hilarious. While there is an overreliance on crude toilet humour, the onslaught of one-liners repeatedly hit their mark and earn solid laughs. Quite simply, Screenwriters Josh Heald and Sean Anders (She's Out of My League, Sex Drive) know what's funny, while screenwriter-turn-director Steve Pink (Grosse Pointe Blank, High Fidelity) utilises his expertise in comedic timing to deftly direct his actors. It's edited together with an infectiously fierce pace and overlayed with a buzzing and blaring pop soundtrack. It's crude, inane and manic, but boy is it fun.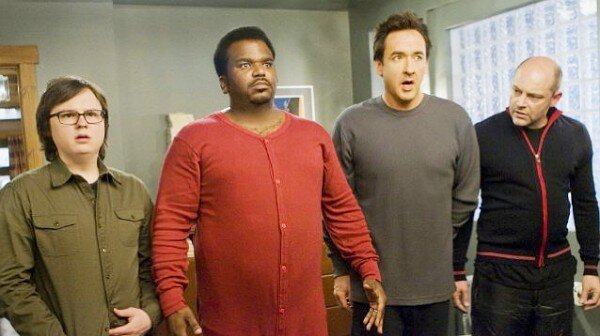 John Cusack (2012, High Fidelity) might be the film's biggest name, but he embodies the weakest, most subdued character of the four leads. As Adam, Cusack gets stuck with the tacky romantic side-plot, while Rob Corddry (The Heartbreak Kid, Semi-Pro) and Craig Robinson (Pineapple Express, Zack and Miri Make a Porno) proceed to have all the fun. Corddry in particular is excellent as Lou; much like Zach Galifianakis' character in The Hangover, he's the most eccentric, grotesque and funniest of the bunch. He's also a bit of an asshole, yet Corddry's performance subtly draws attention to his insecurities and crafts him into an endearing lost-puppy type. Robinson's provides a perfect counterbalance to Corddry's in-your-face antics as Nick, his deadpan and self-depreciating sarcasm not to dissimilar to what Michael Cera (Year One, Juno) has made a lucrative career portraying. I must say it's refreshing to see an African-American actor/comedian not play-up on the fast talking, loud mouthed Eddie Murphy stereotype too often seen in Hollywood films.
Last of the leads is 24 year old Clark Duke (Kick-Ass, Sex Drive) as Jacob. Playing the role of mediator between each of the characters respective sub-plots, he risks been seen as a plot device used to tie up all the loose ends of the story, but rises above it with some solid comedic input.
As far as cameos go, former genre king Chevy Chase (National Lampoons, Fletch) is criminally wasted as the hot tub's mysterious repair man, while Crispin Glover (Back To The Future, Charlie's Angels) provides the film its funniest slapstick moments as Phil, a creepy bellboy who is constantly on the brink of losing his arm in a freak accident.
Let me be honest here; you really shouldn't need a review to tell you if you're going to like Hot Tub Time Machine. The forthright Snakes on a Plane-inspired title is the ultimate sales pitch:
There's a hot tub. It's a time machine. If that's not enough to get you on-board, then this time trippin Jacuzzi ain't for you.

Follow the author Anders Wotzke on Twitter.
Related Posts: