If you ever wondered what would happen if Russell Brand relapsed into drugs and took off on a ridiculous adventure, then Nicholas Stoller's Get Him to the Greek might have your answer. Although the strong cast is enough to sell such a simple plot, Greek has a lot to offer in it's outrageous portrayal of stardom that will rival anything you see on TMZ.
The story is straight forward: Aaron Green (Jonah Hill), a record company assistant, must escort the out-of-control rock star Aldous Snow (Russell Brand) to The Greek Theatre in Los Angles for a comeback performance. With only three days to the show and a schedule to keep, Aaron is soon at the mercy of Aldous' antics. To make matters worse, Aaron believes his long time girlfriend has broken up with him, making him susceptible to the rock star's self destructive suggestions. Hilarity ensues.
Aldous is also experiencing a low point after breaking up with celebrity girlfriend, Jackie Q (Rose Byrne). Unfortunately for him, her singing career stayed afloat, while Aldous' fell apart, after the release of African Child – a grotesquely patronising single they recorded together about poverty in Africa. On this journey away from home (and his beloved mother), Aldous takes the opportunity to fill the gap in his life by contacting his estranged father, nearly killing Aaron and squandering through most of the trip with sex, drugs and rock and roll.
Get Him to the Greek's plot feels like a quest, an adventure which consistently leads to entertaining situations for the characters. We see our protagonists travel from Britain to New York, Los Vegas and LA, each location conveying a heightened sense of madness in the celebrity world of Aldous Snow. It really is a treat to watch each scene unfold: easily manipulated groupies, psychotic executives, annoyed Harry Potter stars and philandering singers all make Aaron's job that much more painful, and (for us) enjoyable. The best part is that none of this feels stupid, or hammy, mostly thanks to the two leads.
Both Russell Brand and Jonah Hill walk the line between lunacy and subtlety very well. Hill plays a mousey character who maintains an endearing sense of hopelessness throughout the adventure. Aaron's relationship with his girlfriend is particularly adorable and you do feel genuinely sorry to see things going pear shaped for them. Brand also plays a rather reserved individual for more time than you would expect, carrying the intensity of a rock star with refined confidence in the delivery of dialogue, rather than physical displays of insanity and arrogance. Aldous' lines are the film's highlight, with Brand's eloquent and ever expanding vocabulary analysing the antics with razor sharp accuracy. The fact he exclaims one particularly long hallway as "Kubrickian!" during a chase sequence is on par with the continually unexpected and hilarious take he has on the world.
Another worthy mention is Sean Combs (or P. Diddy as he is better known), who plays Aaron Green's boss, the record company executive. Combs compliments Brand and Hill, with a truly audacious character that has seemingly limitless energy. Being the only true psychopath in the film, he personifies greed and control through some straight forward and very aggressively delivered comedy. I wasn't expecting to like his performance from seeing the trailers but, in-context, the styles of comedy gel together nicely.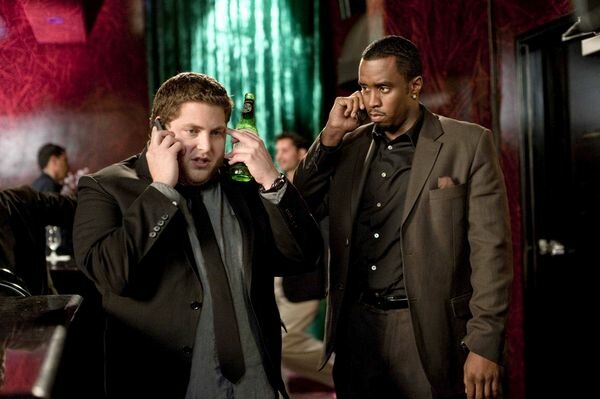 Amongst the great performances lies some moments of satire relating to the Hollywood entertainment era we currently live in. The film isn't overly pretentious in making fun of the tabloid celebrity culture, but it most certainly does make fun. New age religion, split celebrity parenting, the relationship rumour mill, selling out, the entourage and self obsession are a few themes that rear their heads.
Technically, the film does nothing special, but like the rather simple story, it doesn't need to. Characters are the clear focus of the film and the cinematography facilitates the performances as adequately as you can expect. The soundtrack isn't used too obnoxiously either, particularly during the emotional turning points. Aldous Snow's own music is actually quite good, especially within the context of the movie and it rocks out enough to make Snow's position as a star believable.
I must admit, I have always enjoyed Russell Brand's unique form of humour, which pervades this film. Therefore you may want to take this into account if you inexplicably dislike the comedian. However, for those who are new to Russell, Get Him to the Greek is no better place to start.
Verdict:
Comedy is the central goal of the film and if you keep that in mind Get Him to the Greek delivers.
Related Posts: